Not getting enough traffic from Google?
It hurts!
Do you also think that it's tough to get traffic from google?
Let me tell you, you can get thousands or even lakhs of organic visitors to your website.
I have detailed each and every aspect which I am using to get instant website traffic.
You need to understand and implement these techniques to get traffic to your website.
Yes, Generating Instant Website Traffic is possible if you follow my 33 proven ways of increasing website traffic.
By using these proven and tested methods I generated thousands of visitors to my blog.
Have you tried each resource out there but your website still not generating traffic?
before this, my friend let me tell you one thing very clearly and frankly.
Increasing traffic to your site may need some time, So it is necessary to have patience, and work on your site passionately.
But if you follow the right measures, you'll see an increase in your website traffic.
In this post, I will tell you 33+ practical ways, how to increase traffic to the website.
And, I also use these methods to increase the traffic to my website.
33 Proven Methods For Instant Website Traffic
Without wasting time let's get started with these amazing ways to increase traffic on websites that I personally used.
1. Use Catchy Blog Post Title
Your blog title is the first impression of your whole blog post. Always try to make it catchy and clickable.
A catchy title leads to more clicks, and ultimately it helps in increasing your website traffic.
Let me show you an example.
Your blog post title is the first impression of your whole blog post. Always try to make it catchy and clickable so that, you will get the maximum traffic from google.
Your blog title tells your audience about the topic that you covered in the whole blog post.
Catchy blog titles increase your organic CTR which leads to a higher ranking in SERPs.
And we all know that a higher search ranking means high traffic on your website.
Here is some useful advice that I will recommend you to follow for writing attractive blog post titles for Instant Website Traffic.
To get the best attractive headlines for your blog posts, you can try AI Writing tools. There you will get pre-build headline generators for blog posts. Below are the amazing and popular AI Writing tool sources.
You can try anyone one of them which you liked.
2. Do On-Page SEO
On-Page SEO is an important factor that plays a major role in your blog post ranking. Sometimes only on-page SEO is enough to rank your blog post if you do it correctly.
On-page SEO is the practice of managing your blog posts to increase the website's search engine rankings and gain organic traffic. It is also known as on-site SEO.
Believe me,
Let me share with you a perfect example of on page SEO blog post.
As you can see in the above image, If you do proper on-page SEO of your blog post. You can easily rank your blog post on the first page of Google.
Now, Let me tell you how to get traffic to your website fast by using On-page SEO?
On-page SEO involves optimizing your headlines, HTML tags (title, meta, and header), and images.
It also implies making sure your website has a high level of professionalism, authoritativeness, and genuineness.
Here are some most prominent elements of on-page SEO. And If you put these strategies into on-page strategies, you'll see a boost in traffic and a rise in your search presence.
Title Tag
The title tag, an HTML tag exists in the head section of each web page. The keywords in h1, h2 tags ease the google crawler to get your main keywords. So, make sure you're optimizing this.
Your title tag helps your blog to stand out in the SERPs. which leads to higher ranking and better traffic.
Meta Description
Meta tags that explain what the page is all about. It is usually published in the SERPs below the headline of the page.
Optimizing meta tag correctly can help you in:
Better Click-through rate (CTR).
Quality of the outcome.
Helps readers to understand the blog topic.
Write Super Quality Content
As we all know that Content is the King. So don't only focus on writing content according to search ranking. You should write super high quality content by keeping readers and search engines in mind.
Quality Content should be your first priority because without content no other ranking factors will help you in increasing your blog traffic.
Image Optimisation
Adding images is a great way to make your web pages more organized and structured. But not all photos are designed equal. You need to know that some can slow down your website.
Do you know?
Optimizing images will improve you to make the most of an SEO asset.
Image optimization has several benefits, such as:
Additional ranking possibilities.
More high-grade user experience.
More Engagement in your content and blogs.
Attracts natural link building opportunities.
User active participation
Improving the website's on-page SEO elements is just half the real battle. The other half resides in getting sure that your users will not bounce back – instead, they'll remain viewing your content, commenting on it, and continue coming back more often.
Attracting interested users is the main difficulty in itself, but it's doable.
Let me tell you how to improve user engagement?
To improve the engagement of the user, concentrate on specific features like site speed, content optimisation, and user experience.
3. Do OFF-Page SEO
These are ways that work in building as many high-quality backlinks as possible.
Off-Page optimization means all the steps that can be followed apart from the actual website to better its search rankings.
These are crucial off-page SEO techniques that I used to increase website traffic fast.
These are ways that work in building as many high-quality backlinks as possible.
Offpage optimization means all the steps that can be followed apart from the actual website to better its search rankings.
These are crucial off-page SEO techniques that I use to increase website traffic fast.
Outreach to the Influencer
If you have written any good content which you can share, then don't think too much about reaching out to influences from your profession. Ask them to check out your best blog and request for link backs from their blog.
For complete detailed guide check out Blogger Outreach: The Definite Guide by Backlinko.
Work as a Guest Author
Many valuable and worth blogs are open to guest posts from several Guest authors. Create an excellent research piece and approach them with the content for guest posts. Don't focus on the number of links but instead focus only on quality links.
Guest post is the most powerful and most effective way of creating high quality backlinks.
Here are some of my Guest Post that I did on different blog:-
Social Bookmarking Sites
Social bookmark is a link that people post to social websites to watch it later because they seem to be interesting, valuable, or good.
Others can also see your social bookmarks and, if they liked it, they can also share it with their audience. With this, you will get targeted traffic, and some great quality backlinks to your website.
Social bookmarking is one of the traditional way to increase traffic on blog.
Check out here for 99+ High DA Social Bookmarking Sites
Article Submission
Your content should be unique and of high quality. Low-quality content and content that has more keyword adding might get rejected. Submitting your articles in a high PR article submission directory can also give links to your website, and helps you in increasing traffic on website.
Video Submission
Getting quality backlinks by heading for successful video submission sites is one of the best ways. You should give it a proper title, description, tags and reference links to it.
I am using YouTube for this. I am getting very good amount of traffic from YouTube and quality backlinks also.
Image Submission
Creating backlinks from Image submission sites is one of the most popular techniques.
With Free High PR Image Sharing Sites you can increase traffic on your blog. It also helps in increasing the backlinks of your website.
Most of image submission sites are do-follow sites, which give link juice or domain weightage to your blog. But not all of them.
Check out here for 75+ High DA Dofollow Image Sharing Sites List For SEO
Profile Creation
Among all link building strategies, Profile Creation sites is the evergreen white hat link building strategy.
Don't believe me, Even pro bloggers said it.
Let's have a look at it what Anil Agarwal "Founder of Bloggerspassion" said about profile creation sites.

Check out here for High DA Dofollow Profile Creation Sites List
In conclusion, proper On-page and Off-page SEO optimization work will give a better position to your website in SERPs and increase website traffic fast.
4. Focus Long Tail Keyword
Long-tail keywords are more precise and longer keyword phrases that viewers are more inclined to use.
Now, you are thinking about how to increase traffic on blog by using Long-tail keywords?
Use precise and longer keyword phrases. Handling long-tail keywords are just a subject of building more solid lines of communication between your website and the customers who are previously out there, actively buying for what you present.
Now, check out the below image to understand in a better way why long tail keywords are easy to rank and highly convetable.
Image Source: Backlinko
5. Share Your Link On All Platform
You should share your blog on various social media to increase website traffic fast. Don't restrict your blog only for Facebook, Twitter, YouTube.
Share it on as many platforms you can because you never know from where you will get instant website traffic.
This is what i am doing, I never leave an opportunity to share my blog post url from where I can get some blog traffic.
Let me show you the results of this.
social media traffic from different sources
6. Updating Out Dated and Old Content
You know that lots of content are being produced on a daily basis, but with time, it becomes irrelevant. So, you need to edit your content with some recent updates. You also need to assess the quality of the material.
Benefits you will get after updating your old and outdated blog content.
Increase your click-through rate
It shows to Google that the content is fresh
Increase your content's accuracy
Update the freshness of your entire site
It shows value by removing broken links
Helps you in your blog ranking
An increase in your blog traffic
A few months back, I started updating my old content and saw a boost in my keywords ranking.
Let me show you the stats of my site.
7. Optimize Your Images
If you are one, who tends to ignore image SEO, then you are doing a big mistake. Image SEO is also important to rank your images in the Google images section.
This will also bring instant website traffic.
How will you increase traffic on blog by optimizing images?
Optimized images in blogs and articles attract a huge number of visitors from Google image sections.
You can follow these measures to optimize your images better for increasing Website Traffic.
Work with A Proper File Name
Use Alt Text And Captions
Create Image Sitemaps
File Type should be Correct
Need to be Aware Of Copyright
Compress images before uploading.
8. Use Good Premium Themes
Premium WordPress themes can be a perfect option and are worth using it.
You must know that a great theme gives Instant Website Traffic because it provides your business with a well professional look.
Thinking of which premium wordpress theme I am using??
Which Theme I Personally Used & Recommended You?
I am Using GeneratePress Premium theme on this blog, and on all my other blogs too. This is the most lightweight weight, SEO-friendly, schema optimized theme I have ever used. I am using it and loving its amazing features. I always recommend what I Use.
Let me tell you five advantages of using Generatepress Theme
Still, Confused?? Check out Here My Honest GeneratePress Review.
9. Write Long Articles
Writing content is very easy but writing quality content that is fulfilling user intent is quite difficult.
Here, write long articles doesn't mean you will write 5ooo words article without fulling user's search intent.
While writing your content, your first priority should be fulfilling user intent.
User intent is the things that will give you top ranking in SERPs.
So, Keep your eye on word counts but always focus on user search intent.
Furthermore, long-form content gives increase website traffic fast as well as:
Benefits of long Articles are:
10. Use Best Plugins
Using the best plugins for your site will not help directly in increasing your blog traffic. But indirectly they will help.
Premium plugins will save your time and make your blog more professional, and user friendly.
Ultimately, the best user interface leads you with good traffic on your site.
Want to know some essential plugins that are necessary to use for every blogger?
I know you want it!
Let me share them with you.
1. Rankmath Seo
This WordPress plugin improves your website for a good SEO standard. Rank Math helps you with knowing where you are going incorrectly while building some content with an appropriate keyword.
Top highlights of Rankmath
Option to enter up to 5 targeted keywords.
It suggests long-tail keyword while tying the keywords
We can easily edit snippets, i.e. meta title, meta description
It automatically suggests internal and external linking
2. WP Rocket for Website Cache
Installing a caching plugin is an excellent way to shorten the loading time of the WordPress website. WP Rocket is a paid alternative, with its prices starting at just $49. The plugin gives the best results with minimum effort.
3. Thrive architect for designing pages and post
Thrive Architect an amazing page builder plugins. If you need to build different layouts, a drag-and-drop page builder plug can support you to take command of your site's design.
Here are the essential highlights and improvements:
Goes with all WordPress themes
Full page templates and sections
Excellent selection of elements
Updated user interface for more natural content editing
11. Make Facebook Group
You can get benefit from Facebook groups to grow your online community and improve visibility for your website. You can build your business into a place where members can find their tribe — a place on the internet to call their home.
Let me tell you!
When you create a community, you'll gain the trust of loyal followers that will get back to your website again.
Here are four simple steps that one can follow to use Facebook groups to gain Instant Website Traffic.
Search and become a member of relevant Facebook groups.
Build your own Facebook group.
Gain group members.
You can share relevant content and start conversations.
When you create a community over Facebook with highly active and more engaged members, it will do all the work for you by itself. Your faithful following will turn into loyal customers very quickly.
How to increase website traffic with the help of Facebook groups?
You should join relevant Facebook groups and share them too. You can also share recent updates over the community page of your youtube.
You need to know that, Sharing links over multiple social media platforms brings unique visitors to your site. And if you are not tapping this opportunity, then you are surely missing the best opportunities.
12. Do Guest Post
Guest blogging is about posting your content on another person's blog. You provide good quality content to other's blogs, and in return, you receive an external backlink and broader exposure.
Do you know?
Getting these high-quality backlinks will increase your search engine rankings. This is the reason people do guest blogging. It's a simple concept with a win-win situation for both sides.
What does guest blogging achieve from the prospect of the guest?
Good networking with bloggers and establishing new connections.
Pitching to an established community ready to hear what you have to say to them.
13. Use Quora
Quora gets hell lots of traffic, which can easily redirect those to your website. It is believed to be a goldmine to get traffic to your site. You can use your creativity to build your brand name on Quora.
Let me show you my stats from quora.
Few recommendations of some use:
First, Link your website with your profile
Then, create a website page on Quora
Now, Start blogging
Add some real value
Earn backlinks as return
14. Start YouTube Channel
There's real potential with YouTube channels if you use the correct strategy at the right time.
How to get traffic to your website fast by creating a YouTube channel?
YouTube is an elixir for your digital marketing. You should take the help of this amazing platform for building a genuine community within your niche. Create your own channel and start sharing whatever you are good at.
Why you should work on YouTube to boost your blog or website
It improves your conversion rates
It establishes trust with your audience
Perfect way to get instant website traffic without seo
One of the emerging platform for becoming famous.
Make yourself a brand with your YouTube Channel.
Two compelling yet straightforward ways to get an audience over your website from Youtube.
Give your blog description in your YouTube Channel videos.
Promote your blog post content through your videos.
Create a video form or your text content and diversify your Youtube audience to your website, and other social channels.
15. Use Pinterest
Pinterest can be a good traffic source for your website if you create visual content in your niche. It could take some time to discover how to use Pinterest efficiently.
Why Pinterest is a beautiful traffic source
Pins have excellent longevity
It is designed for sharing purpose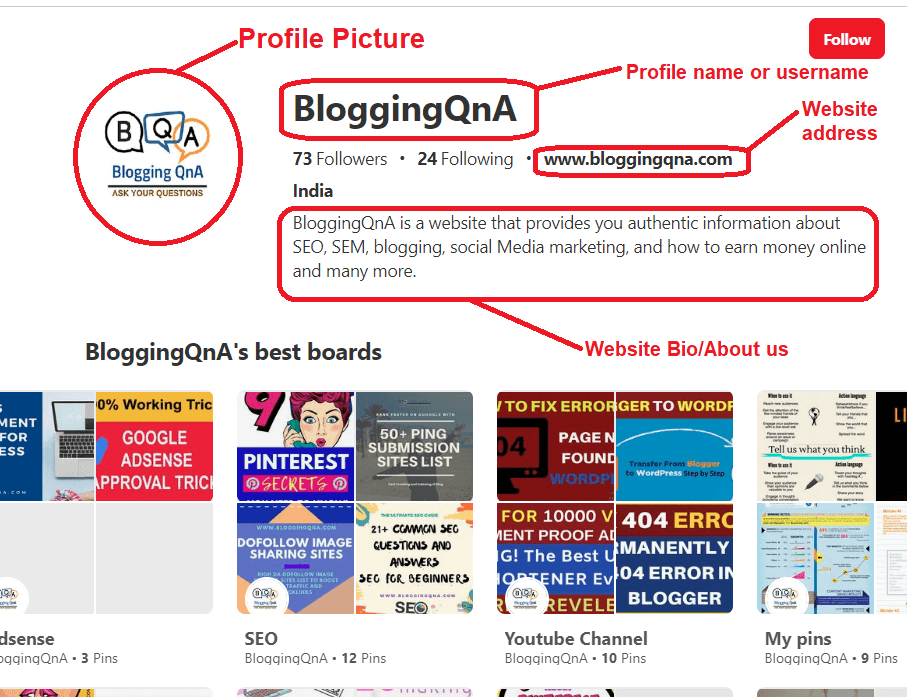 How to increase traffic on the blog by using Pinterest?
Design Pins that Direct to Valuable Resources
Try to Get Your Followers and Reach
Apply Relevant Keywords in Your Board Names
Apply Several Keywords in Your Pin Descriptions
Use Guided Search
16. Add Video In Post
Videos bring life to your website and increase user activity than before. It also reduces your blog bounce rate, which leads to higher search ranking in SERPs.
And indirectly you will get traffic to your website.
The simple way to embed a video to a WordPress post is to do it with the help of YouTube.It can convert it so that it can be viewed over the internet without even care about which video player the user is using.
You can also see that in this blog post, and on other blog post, I always try to add some videos if possible.
17. Using Click to Tweet Links
One of the best ways to share your content to your audience is by simply adding a click to tweet links within your content immediately. It will benefit your regular website visitors and employees to share your content through their Twitter handle easily.
18. Choose the Best Social Share Plugin
If you desire to attract social media traffic to your website, then you should use the best social plugin. It will inspire the visitors of your website to share the content on social networks.
If you are thinking about how to increase website traffic by using the best social plugin then:
Social Snap is such a social media sharing plugin. It enables you to check how your audience shares and view content. It is a tool that gives you full stats and allows you to manage how your visitors share & see the content.
Benefits of Using Social Snap pro:-
It allows advanced features in comparison to other Social Sharing WordPress Plugin.
It is fast and gives High Performance
You can even share Counts via Click Tracking.
19. Create a Free Google My Business Listing
Google My Business helps you to regulate your business appearance over Google Local Search. You add your business name, location, and hours to it.
Then you monitor and reply to your customer reviews. It also helps you to know where and how your audience is searching for you, and increase website traffic fast.
bloggingqna google my business listing
Here are some benefits of Google My Business Listing
It helps you to Show Up in Google Maps Searches
It enables you to Show Up In Google's Local Search Results
It helps you to Gain Trust From Customers
Good Ratings Boost Your trust.
Helps in Branding of your blog.
20. Use Landing Pages
Landing pages help you to get leads and then convert them into potential customers. It's the next move for a visitor to become a customer.
It enables you to sell your products or services, or some deals in return for sharing contact information.
How to increase traffic on website by using landing pages?
Several studies have shown that marketers capture leads at a higher rate by sending them to devoted landing pages, rather than sending them to the home page.
Why is the landing page significant?
It leads customers to a specific product.
It allows you to make a higher conversion rate and build your customer base.
The valuable lead conversion tool.
21. Optimize Your Content With LSI Keywords
LSI keywords or latent semantic index based keywords are the word phrases that are related to your primary keyword.
By using LSI keywords, you are telling Google the more specific about your blog topic.
Now, You are thinking about how to find LSI keywords for your blog?
Let me tell you.
There are various tools that you can use to find. Semrush is one of them.
Let's see some other free methods. You can use Google auto suggest. Check out below images for that.
Why is LSI important for SEO?
Google can easily understand your blog post topic
It Supports your content not to be flagged as spam
Gives you more relevant content ideas
Deliver much more consistent results
Helps in ranking on multiple keywords.
Helps to get more traffic from different keywords.
Decrease in bounce rate.
22. Do Networking in Your Niche
Quote by Tim Sanders: "Your network is your net worth."
Networking is very important these days within your niche. Initially, I was not doing networking at all. But from the last few months. I started doing it and I started seeing results.
And now I am trying my best to do networking as much as I can.
Here are the top five ways to make contacts in your niche.
LinkedIn groups
Facebook Groups
Social Media Channels
Industry Conferences
Meetup Groups
Industry Associations
Here are some benefits that you will get from networking.
Networking is a must for building an authority Blog or to Make it a brand.
Strength business connections
Build confidence
Develop long-lasting professional relationships (Sometimes Personal Also ? )
Get an answer to every question
Got Shares for your Blog posts.
23. Republish Old Articles on LinkedIn
Using LinkedIn Publisher to consistently provide useful content for your audience and gain visibility and without writing anything new is one of the best ways to drive traffic to your website.
How to increase website traffic by using LinkedIn Publisher in three easy steps?
Republish Blog Posts
Re-purpose Long-Form Content
Use Previous Content to Inspire New Posts
24. Publish More List Posts
A list post is an article in a structured and list format. It can include some reasons, tips, methods, and trends. This is the famous post format if you compare it with other social media.
Do you know?
List posts are among a blog's most successful posts. These have the potential to send massive traffic to your blog.
Even if you look at this post. This is also a list post, and i am sure that this post will bring more traffic as compared to other post.
Let me show you some of other lists post of my blog that brings high traffic on my blog.
If you want to improve the exposure of your blog content, then try to post list articles. List post can bring you lots of website traffic.
25. Drive Traffic To Your Website From Forums
Forum marketing is the most underutilized traffic generation strategy on the internet.
Here are Six Essential tips and tricks you should keep in mind while using forums as a traffic-driving strategy.
Choose the right forum
Pick your username carefully
Embed a link in your signature
Build your profile carefully
Don't be spammy
Give quality content
Steps to get website traffic from forums of your niche.
Join your niche relevant forums
Check out the threads in which you can participate, and give solutions to the problems.
Now join that thread give answers to the forum questions, and place your blog post link for detailed information.
With this, you will get targeted traffic on your blog within your niche.
26. Mention Influencers In Your Posts And Let Them Know You've Mentioned Them
This is also a great way of getting initial or to boost your blog traffic.
What all you have to do is just mention big influencers in your blog post and let them know that you've mentioned them.
If they liked your content then, for sure they will share your blog post with their audience.
Now, This will make your blog noticed by people who have an interest in the same niche and, if they find your blog content good they will visit again and again.
Want proof?
Let me show you.
A few months back, On my YouTube channel, I created a video on Best Facebook Group For Bloggers and digital Marketing and, I mentioned big influencers like Santanu Debnath, Sumit Sao, Anil Agarwal, and some more big influencers.
What happened next. They shared My video in their Facebook groups, and also Santanu Debnath Mentioned that video in one of his blog posts.
By this, I got many views and saw a quick boost in that particular video.
You can do the same with your blog.
27. Interview An Influential Blogger
An efficient way to create interest in your users is to interview influencers in your industry. This may attract the attention of your blog. It could increase your audience as well.
The tips will help you to get a clear understanding of how to increase traffic on the blog by leveraging influencer interviews.
First, Identify the Influencers from your networks, search for the strategies to approach the person.
Compile some interesting Questions That will Engage the Influencer
Influencer interviews are highly worthwhile if your goal is to improve your blog and expand your readership.
Here is an interview I have done on my blog, and many more are on the way.
A few days back I interviewed Santanu Debnath Founder of Bloggingjoy, on my Blog. You can read that interview here.
28. Use Infographics
Infographics are simple data in a visually structured and engaging way to draw and impart knowledge to a broad audience.
The designers of infographics use simple and basic design to present information and to make it readily available to your audience.
Four reasons why one should Use Infographics?
It Can Quickly grab your visitors eyeballs
It Can easily Increase Your Brand Recognition
It Can even Make Your Blog Go Viral
It Can also increase your search marketing result
helps in building your brand in your niche.
Infographics attract more quality backlinks
29. Improve Your Organic Click-Through-Rate
With Organic search click-through rate optimization, improving your organic search rankings and bringing massive traffic to your site is secure.
More CTR means more ranking, and the best ranking will bring instant website traffic.
How to Increase Your Organic Click-Through-Rate?
Research for long-tail keywords
Write compelling meta descriptions
Execute structured data
Compose posts with images
Use descriptive URLs
Make your title and description clickable.
30. Promote Your Site With Blogger Outreach
Bloggers and social media influencers are the leading marketers in the present. Contacting the bloggers in your industry gives you vital platforms for interacting with your potential customers.
How to increase website traffic by the technique of Blogger Outreach?
How to do Blogger Outreach in five easy steps?
Step #1: Find Influential Bloggers
Step #2: Research Your List of Bloggers
Step #3: Get On Their Radar
Step #4: Find Contact Information
Step #5: Reach Out to the Bloggers On Your List
This way you will quality backlinks for your website, and blog traffic also.
31. Start Email Marketing
Email marketing allows you to segment your customers into different lists based on their preferences to send highly personalized content.
Typically, these promotional messages include advertisements, sales letters, donations, or business calls.
Four means email marketing can impact SEO
Turn Qualified Traffic to Your Website.
Better On-Site Engagement.
Form a More Targeted and narrow Content Strategy.
Set High-Performing Emails into New Site Content.
Get more sales and conversion from targeted traffic.
Want to know how, and with which tool I am doing email marketing.
I am using ConvertKit for email marketing. It gives a free 1000 subscriber base for email marketing.
If you are getting good results from that then you can upgrade the premium plan.
32. Publish Viral Content
Once your post, or photo, or any other media content becomes viral, it spreads like fire over the web.
How Does Viral Content Help in Traffic generation?
The core thing about viral posts or articles is its ability to appeal to a majority. Creating viral content is simple, as well as complicated at the same time.
The True Benefit of Viral Content
If content from your business goes viral, then it causes a massive spike in traffic to your website. People click on the post or article, which leads back to your site.
This turns into visitors searching out for your site, which will ultimately improve your ranking.
33. Start Your Telegram Channel & Group
Building an ecosystem around your blog in very important. You can't depend on Google only for traffic. There are various platforms.
So always create ecosystem around your blog. For that, also start your telegram group and channel.
These days telegram channels and groups are very much popular. You can create one for your blog and drive traffic from there.
I am not just saying that. I have proof also. Just check out my telegram channel in which there are 5K+ active members.
In Our Telegram group we are discussion about the latest updates and trends of blogging, seo and Digital Marketing.
Must join our Telegram Channel and group for more powerful Information that you will not found in other telegram groups.
FAQs For Increase Website Traffic
Q1. Why increase website traffic?
Increasing website traffic will give you more conversion and revenue from your blog.
Q2. How To Increase Website Traffic For Free?
In this blog, post I have shared all the methods that are absolutely free.
Q3. Can we increase website traffic without social media?
Yes, You can Increase website traffic without social media. You can use SEO and SEM for that.
Q4. How to increase website traffic quickly for Free?
Check out the above given proven ways to increase website traffic quickly for free of cost.
Conclusion
Since most website owners are striving hard to drive traffic, therefore they should explore these ways that will work best for them.
Boosting traffic is not limited to just one or two particular methods. There are various methods that you can use for your business.
Following the concern, these are the compiled strategies to give Instant Website Traffic.
These strategies have helped numerous websites to gain remarkable improvement in their traffic and conversions too.
If you find these methods helpful. Do share it with your friends, and on your social media handles.
Your every share appreciate our efforts.. 🙂 🙂