Verified
100% Verified
SendFox Review + Lifetime Deal
Sendfox is an affordable email marketing tools with lots of features and benefits for beginners. Get a lifetime deal of sendfox at just 49$.
50+ People Used
Only Few Left
Searching for SendFox Review? or looking for Sendfox lifetime deal on the internet?
No worries you are on the right page.
Today, in this sendfox review you will get every detail about it and also you will get the lifetime deal detail on Sendfox.
SendFox is a product created by the Sumo family of companies who also run AppSumo (a great place to get lifetime deals on software), KingSumo, etc.
Excited about Sendfox review?
I know you are.
So let's get into it.
What is SendFox?
Email marketing is one of the best marketing strategies. But for that you need the right email marketing tool that offers you the best features along with that, it must be affordable.
And here Sendfox is the best option for you. Sendfox is an email marketing tool that is affordable and easy to use.
It is a great tool for those who are just starting out and are looking for a reliable and affordable email marketing service. Also for those who are looking for a way to automate their email marketing campaigns.
When you are an entrepreneur, you need to send emails to your subscribers, followers, and fans to keep in touch with them. This is the best way to stay in touch with your audience and provide valuable content.
However, sending emails can be a difficult task to manage. But you can make it easier for yourself by using a tool like sendfox.
With this tool, you can send personalized emails to your subscribers, followers, and fans and have them automatically sent to them without any hassle.
This is a great tool for those who are time-strapped and who want to save time by automating the process of sending emails.
TL;DR
SendFox Benefits You Will Get
Want to know the benefits and super amazing features you will get with this tool. Let's check out.
1. Email and Smart Campaigns:-
same as other email marketing tools here also, you can send emails, and schedule emails for your email list. But the best feature of Sendfox is Smart campaigns.
This feature captured my attention a lot and after using it, I am in love with this feature. See the below image.
Once you have created your newsletter, you will see an auto-generated smart campaign that promotes the latest posts from your content source.
This smart campaign will only promote the latest posts from your content source, so you can be sure that your subscribers are getting the latest and greatest content.
You can do all the settings by clicking the smart campaign button above emails.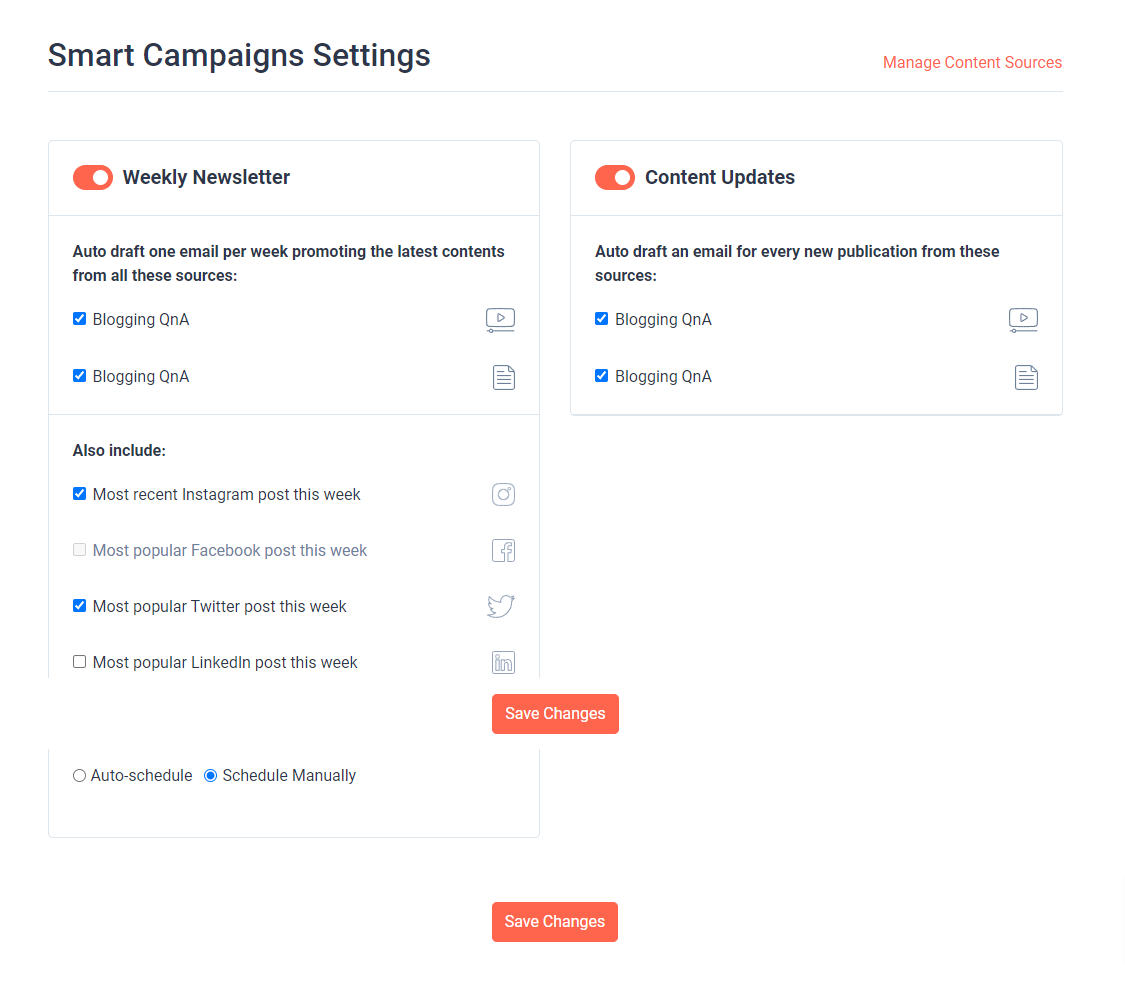 This is the most amazing feature that no other email marketing tool is providing. I must say try this tool for this feature. You will become a fan of it.
See the below image for how beautiful automated email this tool is creating under the smart campaign feature.
2. Email Editor:-
The WSYWIG editor is a simple in-built editor that enables you to quickly customize the following elements of your email: Font Colors Formatting Links Meta tags Subject line.
You should use this editor to make sure that your email is perfect.
It is very easy to use and will help you make sure that your emails are always consistent with your brand. It will also make sure that your emails are easy to read and will help to increase your email open rate.
3. Automations:-
Email automation is very important for bloggers and marketers who create content on regular basis.
Email automation helps me in:-
And all this is possible with sendfox email automation. Just select the automation template and start building your email automation.
4. Multiple Lists:-
The SendFox email marketing software allows you to create multiple lists via opt-ins, and double opt-ins, and then can use these lists to send emails based on their interests.
This is a great tool for email marketers who are looking to identify their target market and reach out to them with relevant content.
5. Landing Pages & Forms:-
If you are a YouTuber or blogging on any microblogging platform like Instagram then you might not have designed a website for you, right?
And growing your email list without having a website could be problematic for some users.
But if you have access to SendFox, you don't need to worry about it.
Yes, apart from email sending features, SendFox facilitates you with a pre-created landing page.
6. Referrals Campaigns:- 
Referral campaigns are also there so that you can grow your list by referring others.
---
SendFox Pricing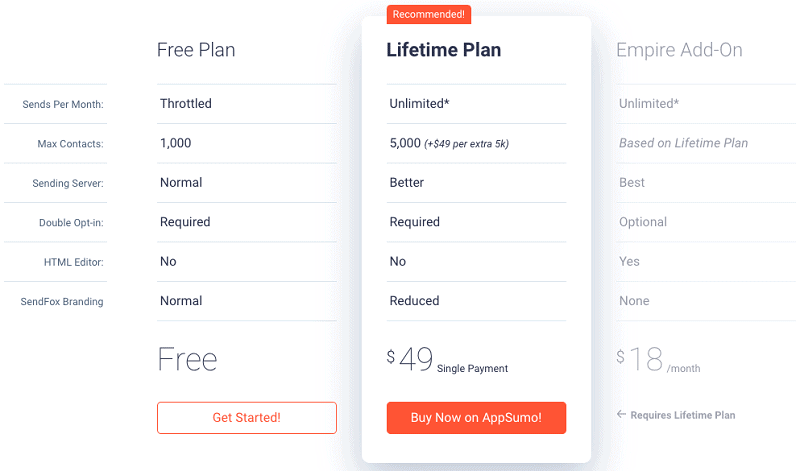 Sendfox pricing is very interesting. You can use it for free of cost without paying a single penny to some extent.
But to get the full features you have to go for the paid plan. below are the details of each plan.
1. SendFox Free Plan
If you want to try it for free. Then go for the sendfox free plan where you can use all features with some limitations up to 1000 subscribers in your email list. below are the limitation details in sendfox free plan;
2. SendFox Lifetime Plan
If you are looking for more features. Then go for the sendfox lifetime deal on appsumo. here you just need to pay 49$ once and you can use this tool for the rest of your life.
Below are the features you will get in this lifetime deal;
---
SendFox Pros and Cons
Below are the pros and cons of the Sedfox email marketing tool.
Pros
Mobile responsive emails
Test and preview feature
Wide range of integration (Sumo, KingSumo, Zapier, etc.)
GDPR consent feature
Powerful analytics
RSS feed functionality
Multiple domains in one account
Cons
No HTML Capability
No Attachments
On the Way or Progress
Quite New in the market
---
SendFox Lifetime Deal on Appsumo
Right now you can grab Sendfox email marketing tool at the cheapest price because there is a lifetime deal running on Appsumo.
So this is the best time if you want this tool at the best-discounted price.
just pay $49 and use this premium tool for the rest of your life. use the below button to activate your Sendfox lifetime deal on appsumo.
SendFox is an email marketing tool designed specifically for content creators that lets you compose and send unlimited customized emails. Use the below button to activate your lifetime deal on SendFox.
---
FAQs For SendFox Review
Q1. What is SendFox?
Sendfox is an email marketing tool like convertkit, aweber, Mailchimp. It's the most affordable in the market with all automation and unlimited emails.
Q2. How good is SendFox?
It's just an amazing email marketing tool. Amazing delivery response and good smart campaign. You can categorize email lists into different sections.
Q3. How much does SendFox cost?
SendFox lifetime deal is priced at just $49 that you can get from the AppSumo platform.
Q4. Is there any money-back guarantee on SendFox?
Yes, you will get a 60-day money-back guarantee.
Q5. SendFox vs Mailchimp: Which one is better?
For me, sendfox is the clear winner. you will get a better user interface, delivery time, and many other features as compared to Mailchimp.
Final Thoughts on SendFox Review
That's all from our side regarding SendFox review 2023.
If you don't want to spend on expensive email marketing tools like convertkit, Mailchimp, Aweber then sendfox is the best for you.
With sendfox you will get all email marketing tools and features at a lifetime deal. You just need to pay one-time payment of 49$ and you can use this tools and all future updates for the rest of your life.
So what are you waiting for?
Grab this Sendfox lifetime deal before it ends. use the below button to activate your lifetime deal.