Jasper.Ai Review At a Glance
The Good
50+ copywriting templates
translate in 35+ languages
Comes with Surfer SEO integration
Long-form Content Editor
Jasper Recipes helps you to write 10x faster
Inbuilt Grammar Checker
InBuilt Plagiarism Checker
The Bad
No Unlimited words credit plan
It can not write an entire article.
Human Edit is necessary
You can't blindly trust whatever it writes. You need to verify all facts manually.
Looking for Jasper AI review 2023? Or Searching for Jasper.ai full details and review?
If yes, then you landed on the right page.
In this article, we are going to review jasper.ai which is a very well knows AI-based content writing tool in the market.
Before that, I Highly suggest you activate your jasper.ai 5 days free trial to use all features for free.
So, without any further delay. Let's start this Jasper review.
What is Jasper AI (Formerly Jarvis)?
Jasper.ai is a powerful AI writing assistant that can generate content in seconds. It is a cloud-based service that provides content ideas and text to help you with your work.
Jasper.ai has been developed by a team of professional writers, engineers, and data scientists with the aim of helping people who struggle with their writing skills or lack time to create content for their business.
Jasper will help you get your writing done in minutes instead of hours or days.
Jasper is not just another AI copywriting tool – it's a full-fledged writing assistant that can be used by anyone in any industry.
Jasper has the ability to generate any kind of content in any language, it can also produce subtitles and captions for videos, and it can even write articles on behalf of your brand (if you want).
Features You Will Get With Jasper.Ai
Below mentioned are the amazing features you will get with the jasper.ai Tool:
---
Who is behind Jasper.ai?
Jasper.ai (formerly Jarvis.ai) is managed by a company called UseProof. Useproof helps businesses to increase their sales, conversions, and leads by making use of social proof software.
The company is led by CEO Dave Rogenmoser and team members Austin Distel, John Philip Morgan, Chris Hull, Megan Johnson, and James Morgan. They're also actively hiring, with over 34 open positions on their job board.
Below are the details of the Jasper Ai team members.
---
Top Benefits of Using Jasper AI
Now wondering why you should use jasper AI for content creation? let's see the amazing benefits that you will get with this tool:-
1. Jasper creates original content
No compromise with content quality. With jasper.ai you will get 100% original content. Choose from over 50 different writing skills trained on industry best practices and proven examples.
Artificial Intelligence is trained to write original, creative content.
2. Clean and simple interface
A very easy-to-use and clean user interface. Even a newbie can easily handle all the features and can access all the templates in a few clicks.
On the left side, you'll see all the options including Templates, Recipes, Documents, etc to create articles and content for your writing needs.
On the right side of the dashboard section, you will see all 50+ templates for content creation. To create content just simply select any templates and by adding some details about the topic you are good to create the best quality content.
Here are some of the templates it offers;
3. Boost social media Conversion
To improve your social media conversions you will get many social media templates to test. With jasper ai you can create various social media copies and test them to boost your conversion and sales.
Below are the social media templates you will get with jasper:-
4. No language barrier
No matter your native tongue, write creatively and clearly in 25+ languages.
Jasper ai supports 25+ languages. So you can create content in all these languages.
5. 100% Plagiarism Free Content
With jasper ai you will get 100% plagiarism-free content. As it is ai based writing software so no worry about plagiarism. even you will get a Copyscape plagiarism checker in jasper to check your content plag.
---
How to use Jasper.ai?
New to jasper ai and want to learn how you can write long-form content with this amazing AI tool?
Below I am sharing all details on how to create quality content with jasper but If you love to watch video tutorials then below is the video tutorial.
How to Use Jasper AI Writing Tool to Write Blog Posts?
Follow below step by step guide to understand how to write blog posts using Jasper.ai:
STEP 1: First of all, log in to your jasper.ai account and go to long-form assistant.
STEP 2: After clicking on Long-form assistant you will see 2 options in front of you. You have to choose what type of content you can't create.
You can either start from scratch
Or get help with blog post workflow
STEP 3: After that, you have to describe your topic and what kind of content you want.
STEP 4: Then it will ask you to create your blog post title.
STEP 5: The next step is to write an appealing intro for your blog post.
in the above image, you can see, that there are 3 outputs for the blog post intro. Now you can choose any one of them which one you like the most.
Now you have completed the writing setup and you are good to go to the editor to write a full-fledged blog post.
Once the setup is complete, click on the Open editor button.
On the left side, you'll find the title, content brief, tone of voice, and keywords. If you want a specific writing tone, you can enter that as well in the "Tone of voice" section.
That said, here are some of the writing tones you can use to create content;
Funny
Casual
Professional
Feminine
Masculine
Bold
Secretive
Witty
Sarcastic
Now you have all access to the complete editor. Start writing your details blog post with jasper.ai.
At any point in time if you need any help just watch the above-mentioned video tutorial.
---
Jasper AI Pricing Plans
Jasper offers two pricing packages which are listed below.
The Starter Plan
The Boss Mode
1. Starter Plan:- The Starter Plan starts from 29$ per month where you will get 20,000 words limit every month. This plan is best for creating short-form content like ad copy, intro, outros, conclusion, and much more.
Here you will get 50+ templates where you can write content in 25+ languages.
2. Boss Mode Plan:- The Boss mode plan starts from 59$ per month where you will get 50,000 words limit every month. This is the best plan for long-form content creators.
Here you will get Everything in Starter plan + powerful tools for writing full-length content (like blog posts) with added control & flexibility.
For more details about each plan pricing check, this complete article on Jasper ai Plans and pricing.
---
Jasper 5-Day FREE Trial + 10,000 Free Credits
Verified
100% Working
Jasper. AI Review and Free Trials
Jasper.ai is the best AI writing tool in the market that helps you to generate quality content in very less time. Get free 10K free credit and 5 d free trial to use all premium features.
200+ People Used
Only Few Left
Follow the below given step-by-step guide to get Jasper Free Trial.
STEP 1: Click this special link, this link will redirect you directly to the jasper free trial landing page.
STEP 2: Now click on the "Claim 10,000 Words Free" button.
STEP 4: Now it will ask some basic questions, simply fill that in and move forward.
STEP 5: Now Pick a plan that suits your budget and requirement.
STEP 6: Now fill in the payment details and start using your free credits.
NOTE:- Adding payment details will not cost you a single penny. You can see this clearly in the below video. It's just to verify your account. After 5 days you will charge. Before that, you can cancel your trial at any point in time.

if you want a video tutorial for the same. below is the step by step video tutorial for claiming free credit from jasper.ai
---
Jasper Software Tool Pros & Cons
Everything has its own pros and cons. same as that jasper ai also have its pros and cons. Below are the details.
Pros
Create original content that ranks for SEO
Finish your first draft
2-5X faster
50+ Templates
25+ Languages
Surfer SEO Integration for Better SEO Results
Long-form Content Editor
Rated 5/5 stars in 3,000+ reviews
AI makes it fast & easy
Inbuilt Grammar Checker
InBuilt Plagiarism Checker
Cons
No Unlimited words credit plan
It can not write an entire article.
Human Edit is necessary
You can't blindly trust whatever it writes. You need to verify all facts manually.
The pros of jasper.ai are very high as it will help in fast ranking and create quality content for you.
Now it's your turn to try jasper.ai and take your content creation work to the next level. Use the below button to activate your 5 days free trial with 10,000 free credits.
---
Jasper AI Customer Reviews & Ratings
Still confused about ajsper.ai? Below you can check Jasper.ai Review & Testimonials by People Who Purchased it.
After reading these reviews you will have a clear decision in your mind.
You can check all the reviews here.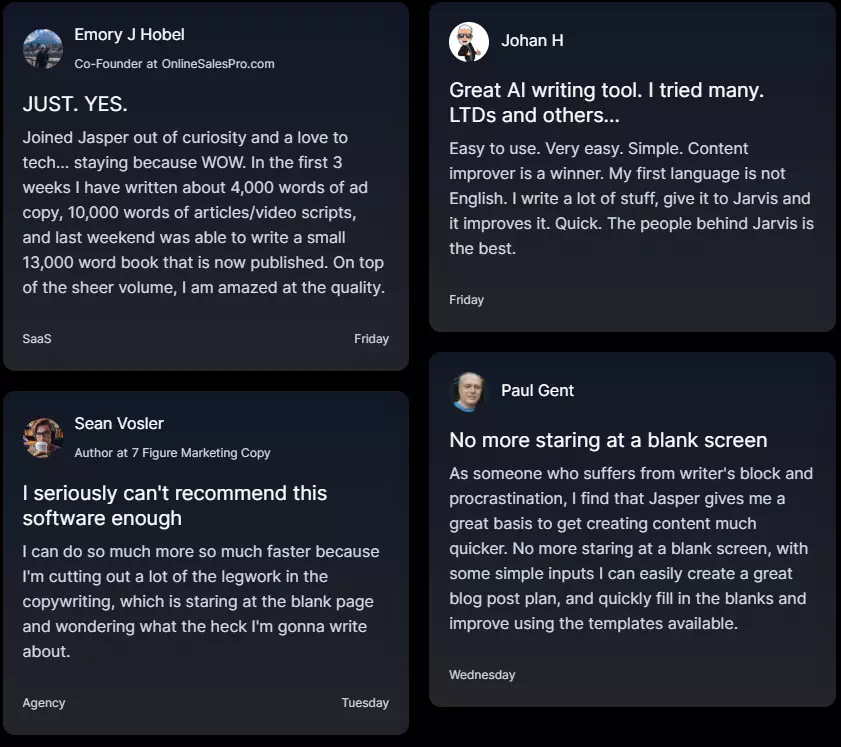 Jasper Review on TrustPilot
Jasper.ai Review on G2
I am sure, that now you have a clear picture of how useful this tool is. You will see positive reviews only. So what are you waiting for?
Go and try it now.
---
FAQs for Jasper AI Review 2023
below are some Frequently Asked Questions about Jasper AI review 2023
Q1. What is Jasper AI?
Jasper.ai is a GTP-3 AI-based software that helps you to create quality content in less time.
Q2. Does Jasper AI generate Plagiarism free content?
yes, Jasper.ai generates 100% plagiarism free content. Also, it offers an inbuild Copyscape plag checker. So you can check your content plag from there if have any doubt.
Q3. Does Jasper.ai offer a free trial?
Q4. Can I cancel my subscription or free trial?
Yes, you can cancel your free trial at any time. you just need to login into your account. Go to the subscription section and cancel your trial.
Q5. Does Jasper AI offer a Lifetime Deal?
Q6. How much does Jarvis AI cost?
Jasper.ai has 2 plans. starter and boss mode plan. The starter plans start from 29$ with 20K words limit every month. The boss mode plans cost you 59$ with 50K words limit every month.
Q7. Are there any alternatives to Jasper AI?
Yes, Rytr is the best alternative to jasper that I am currently using. Apart from that, you can check some appsumo best deals. There you get many ai writing tools with lifetime deals.
Q8. Is Jasper AI worth it?
Yes, I am using it for the last 6 to 8 months. Every penny invested in it is worth it.
---
Final Verdict on Jasper AI Writing Tool
No doubt jasper.ai is a powerful AI writing tool that helps you a lot in content creation. But it can't match the quality of an experienced content writer.
At last, you need to give a human touch to get the best content from jasper.ai.
Apart from that, I highly recommend trying jasper ai writing tool. you will love the output and yes the content written by jasper.ai is ranking on top of google if you optimize it correctly.
Over time you will become a master of this amazing tool and can write a 1000 words content in a few hours.
That saves lots of time. So, if want also wants to save time and get better content faster then must try this tool. You'll be a fan of this tool like me.
If you are still thinking about " Is Jasper AI worth it? " then I'll suggest you activate the free trial and try it yourself. I'm sure that you'll love it.
I hope that you found this Jasper AI review article helpful.