Blogging these days have become quite hard but not expensive if you can use your brain.
Our today's class is about Semrush Tutorial & Review.
If you are serious about blogging then you should know that most bloggers get failed because of their lack of enough data to optimize their Websites.
From creating content to optimizing content, every action of your website should be driven by reliable data.
By the way, you will be happy to know that by this article you will be able to perform several activities like keyword research, competition analyzing, overall site audit, SEO check, and more with this amazing SEO tool (trial available).
Yeah, that SEO tool is the Semrush where you will get a 7-day free trial on your first signup. We will also discuss the pricing later.
But let us begin first!
Semrush Amazing features – 12 specialty tools :
Isn't Semrush cool?
You are getting all of those amazing features to work for your website. You won't only get reliable data but also a real expert to take instant actions to improve your website.
Now let's start with the step-by-step guide of this Semrush Tutorial.
What is Semrush? (Advance Semrush Tutorial)
Although we have discussed Semrush, still you should know some more information about it.
Semrush is located in Boston, US. It is a software-based service (SaaS) company. It was founded on 3 August 2008 and was founded by Dmitry Melkinov and Oleg Shchegol.
In the Beginning, semRush used to run only a few features like keyword research and backlink audit.
But slowly it developed and now features 12 prominent and advanced tools to research your business or website.
Professionals bloggers and Digital marketers are using Semrush nowadays. Semrush is known for its advanced SEO tools, and for data accuracy.
If you see Semrush's review on Google, you can easily wonder its popularity.
How Does Semrush Pull Data?
When using the Semrush tool, you can see how Semrush Collects data and shows you in an informative way.
Semrush pulls data in two main ways:
The first one is by the search bar: You can view your website's overall report by entering a site's URL in the search bar. You can also see your competitors', discover new things, and make keyword lists.
The second medium is by creating a project: You can also pull data through creating a project. I will show you all this in detail later in this article.
How To Use Semrush
As an SEO tool, Semrush has a bit more features than others, comparatively when it comes to use. You can easily use Semrush if you follow the right way.
We will also discuss the shortcuts of its features and easy-to-use way. Now let's dig into the use of Semrush tool.
The first step on Semrush is to Sign up for your new account.
Click Here To Signup And Activate your Free Semrush Trail
You can see the Signup button in the top right corner. Click that.
Then you will be shown the page of putting your email and password.
Put your information and hit the green button to successfully create an account. Then You will be sent a confirmation mail from semrush. Click the link in that mail and verify your account
Let me inform the good news: usability is a very strong point when it comes to using Semrush. So, take it easy.
Like every other tool, semrush has a dashboard on it, where you can see the overall performance of your active campaigns at a glance. This is the first thing you will be seen after you login into your newly created Semrush account.
Then you have to create a project for your domain name so that you can take all actions through your project. Also, your every change and work will be saved on your projects.
Create a new project by entering your domain on the "Add new project" section located on the left menubar
You will see a pop-up next where you have to enter your domain address and project name. Then you can hit the "Create project" button.
The time of creating Semrush new project is like an unboxing moment.
As soon as you click "Create Project" semrush will redirect you to the page where it will show off its marketing and analytic tools Such as-
Semrush traffic analytics
keyword research
PPC Keyword tool and more
But you can also access those tools by going to the dashboard from the "Main menu" section.
Now you should know about the tools and features of Semrush that you will get in the dashboard.
Semrush Dashboard Overview
You can see on the above screenshot that I have already settled "position tracking" for bloggingqna.
We will take a look at "Position Track" later. In the meantime, let's learn a little more about the rest of our dashboard:
How to add Domain in Dashboard
I think by now, you are somewhat cleared with the miniature things of Semrush Dashboard. Now should we step for the other exciting features?
Are you excited?
I know you are, Let's dig deep into this Semrush Tutorial & Review.
Wait, don't rush. There's still a thing to do and that adds your Domain. Enter your domain on the card above on the dashboard labeled "Add domains and monitor their performance"
And click "Add domain". Then the panel will take a load and show you the domain along with significant metrics. You will see:
After you are done with adding your domain. it's time to run a complete deep analysis. This will take us to the first Feature of Semrush that I will discuss below
Now, let's dig into the " Domain analysis" part of our Semrush Tutorial.
1. Domain Analytics using Semrush
Click on your Domain name from the "Domain overview" page and you will be redirected to the analytics page.
You can also start a domain analysis from the 'overview' of "Domain Analytics" in the sub-menu.
Then simply enter the domain you want to analyze and hit 'search'. But the problem here is you should need to analyze your domain again and again as it often takes updates.
So, better to add the domain to your projects first to save the data. You can also put your competitor's domain address here to generate data and take action.
But you can also see and research your competitors by entering domain addresses. Semrush will show your competitors themselves!
This page will show you the loaded information about your competitor as soon as you click 'search'.
It will show data according to four topics:
Organic Search Traffic – How much traffic you are getting by search engines through SERP and it will also let you know the competitors for your keyword.
Paid Search Traffic – the keywords which are ranking and letting you gain traffics and the sample ad text will be shown here.
Backlinks – It will show you the number of your link profile. It also shows the most used anchor text in these links.
Display Advertising – where are your advertisements running and which of your landing pages have the most impression.
The top portion of your Domain Overview page will show metrics on five things:
If you don't have any PPC then the "Display Advertising" will remain zero.
By the way, those five topics are not the most important thing. There are far more crucial data groups to take high-impact actions on your marketing plan.
Let's see all of them.
(a) Keyword Analytics
Most people would love to research their preferable keywords. That's the most interesting part you are going to do by Semrush as an SEO Analytics tool.
This shows the visitors you get through SERP listings. You will see the five keywords responsible for your organic traffic on the card of "Top Organic Keywords" located below your "Domain Overview" page.
Let's discuss all of the columns below:
Position – By this column, you can see the keywords for which you are currently ranking. For example, From the above picture, we can see that my website is currently ranking for the "my response is on my own…." keyword.
Volume – you can easily determine traffic potential for your keyword. The values of this column represent the average monthly search.
CPC – this shows up the value marketers are willing to spend for that keyword on SERP. The more the CPC, the more that term is profitable.
Traffic % – Don't think that the amount of monthly search of a keyword is the number of visitors you will get. Suppose, "my response is on my own website" keyword gets 900 search monthly but that's only 7.6% responsible for my traffic.
Next to that keyword section, you will be seeing the column of metrics that impact organic traffic.
To check the full listing of your organic keywords, take a look at "View details". That will take you to the "Positions" page of your domain's organic research report.
(b) Targeting For Your Ranking Keywords
If your intention is to research keywords for SEO. Then don't ignore your already ranking keywords. Let me show you something:
As you can see, I have ranked on the 1st position for "my response is on my own website" keyword and I got 5.80 traffic by that keyword.
Even though the keyword is getting 30 searches monthly. But I am not able to get a fair share.
Why?
Because there are more pages along with me on Google. Visitors may search for one term but divert when they saw similarly another. It is very actual by the way.
So, you can't get all of the traffic to your post specifically. Everybody knows that Google eats most of the traffic by its first page.
Ranking for a new keyword is not that hard if we do SEO correctly. But man, I am not getting at least half of the traffic through my position(1st).
However, to easily check your more ranked keywords, go back to the "Domain Overview Page". The organic position distribution will show those keywords.
There are more when we will go for Semrush Keyword Analytics Feature.
For now, Let's move to another one.
(c) Spy Your Top Organic Competitors
Searching for more ideas to donate to your SEO Campaign?
Why work so hard when you can easily find what works for your competitor!
Firstly, we have to find who is our top organic competitor? Not to worry! We don't have to perform hardcore research anymore.
Fortunately, Semrush made it very easy for us.
Below the "Top Organic Keywords" section you can find the column "Main Organic Competitors"
It let you know the websites which are competing for the same keywords as you.
You may be thinking of those numbers next to the competitor's domain name.
The "com. Keyword" term stands for common keywords and the "SE Keywords" stand for Search engine keywords.
Common keywords are which for you and your competitors are ranking for and Search engine keywords are the entire keyword pool of your Competitor.
Click "More Details" to reveal more data.
What to do next?
The rest is simple! Tap into your competitor's organic keywords and use those on your page to boost your strategy .What can you do else with your competitor's keyword data:
Identify the gaps in your content to generate more content ideas.
You can find profitable PPC keywords and use them to boost your content.
Lastly, discover long-tail keywords to drive more traffic to your site.
Professional blogger and online entrepreneur Neil Patel says, "If you can use your keywords wisely, you can get over 45% of success"
That's why research more and more for the best and suitable keywords for your business.
(d) Website Backlinks Profile
Whatever you do but do not forget about your link profile. That's also an important part.
Do you know? The factors that google rely on to calculate your rank position are majorly your content, website performance, and link profile.
We will discuss those three factors by the end, that how can you use semrush to optimise those three topics.
But for now, let's talk about the link profile optimisation. Well, what do you mean by the link profile?
That simply means the collection of inbound links that you got from other websites. You can build a healthy link profile through guest posting, broken link repairing, link buying and so on.
Your backlinks contribute to your profile which increases the ranking potential in the eye of search engine. Semrush can show a very accurate list of your whole indexed links
The URL's on the left side is the websites which are providing you links. And the right side URL's are the text (anchor text) containing your website page links.
Anchor text is the word or phrase which contains a link.
Keep in mind that anchor texts are very important for your backlink profile. It shows the reliability of your content to search engines.
Below is a video tutorial in Hindi To understand anchor text in better way.
(e) Check Your Websites Full Backlink Report
Just click "View details" to see your full report with accurate data.
This page will show your backlinks with significantly important pieces of data regarding:
Referring domains and referring IPs – on your full backlinks report page, you can see the "referring domains" metric which is the total number of websites that are providing you the link, and the "referring IPs" metric can detect the location of those websites which helps google to identify manipulative practices.
Backlink Types – Links are not only found in the anchor text. This column can show you whether your backlinks are images, web form or framesets.
Follow vs Nofollow – "Follow" commanded links tell the search engine to pass on that link which impacts directly to rank your page. On the other hand, "nofollow" commanded links tell the search engine not to pass on that certain link. Website owners usually keep their comment section "no follow" to prevent search engines to read that part
Analysing a sites link profile has several benefits. With the help of Semrush, we can:
Remove suspicious inbound links that might be planted by violent competitors.
Discover our most valuable link sources.
Identify the link which has got the most links.
Spy on the link profile of our competitors and knowing their link sources so that we can try to gain links from the same sources.
Find and fix broken links
Remember these points and practice constantly to invent new strategies yourself. We will revisit the link analysing part when we will perform deep researchers.
For now, let's discuss another feature.
(f) Display Advertising
Have you ever advertised for your business before?
If never, then it is normal to confuse display advertising. Basically, you can see paid search advertisements on the SERPs.
For example, if you search "Web Hosting Services in India" on Google, you will see up to four advertisements regarding that search term.
But see Display advertisements are also the ad's which are seen in websites like the below.
Google display advertising network has over two million platforms where advertisements are provided. Google services like Gmail, Adsense, Youtube are also part of that.
If you wanna perform display advertising, Semrush can really help you to show the right path. A competitive domain analysis can help you see the top-level ad's of your competitors to monitor them.
You can see the text and image ads at the bottom of your "domain overview" page.
You can easily get their ad's strategy to imply yours. Okay, I think we are done with our domain analytics page and we should go forward.
But keep in mind, we are not fully done yet. We will research new strategies and techniques later to master the "Domain Analytics".
2. Find Profitable keyword opportunities using Semrush
On this step of our Semrush Tutorial, we are going to find the most profitable and strong keywords for you.
But before you get too much excited we have to perform strong keyword research to assure the reliability of that keywords for your site.
And Keyword research tools that semrush features will help you to authentic the keyword that you have obtained. The fastest way to perform keyword research is from the search bar of "Keyword Overview" page of Semrush.
To go there, select "SEO Toolkit" from the menubar located at the top left side.
And then hit "Keyword Overview".
I will just step forward and see the keyword report for the term "Grammarly discount".
The "keyword overview" page will simply show you the metrics of that keyword value. On the left, we will see organic and paid search data such as:-
Organic Search Volume
Number of Organic results
Average CPC for that term
Keyword PPC competitiveness rating
You can also see the "Global volume" and "Trends" section besides together. By the trend section, you will know the interest of users for that certain keyword.
If you wanna run a PPC campaign then you should take a look at the "trends" well to know the seasonality of keywords. Don't step forward when keywords trend are going to be lower.
Below the 'trends' section, you will be shown the related keywords. You can easily find long-tail keywords and other profitable keywords from here.
Click "View all related keywords" to see the complete list.
You will reach there in a minute. But let us see the rest of our keyword overview report.
(a) Viewing Phrase match and related Keywords
Putting all your efforts in only a keyword is the foolish thing you may do. Go ahead and search for long-tail, short-and workable keywords.
By the way, how many keywords types are there?
There are several types of keywords:
CPC Keyword
Ad's keyword
Main Keyword
Relevant keyword and so on
If you put all of your efforts for only one keyword then you are not doing SEO well. The more you will dig keywords, the more you will get relevancy to your content and search engines will be able to increase your ranking score.
Extracting keywords from the "Keyword Variations" and "Related keywords" would be a great idea.
Let's see how to do that.
Semrush also has metrics that can show you the probability of traffic can get and besides that, average monthly CPC is a mentionable one.
You can also see an in-depth look at the keywords when you click the "view all keywords" below.
(b)Using the Keyword Magic tool for long-tail keywords
The 'Keyword Magic' tool is the one I was eagerly waiting to know bout. It's the keyword research tool that people used to access by paying.
But Semrush has made things easy. You can easily find the most profitable keywords for SEO and PPC through this amazing tool.
Let me give you a quick view of this tool.
Just like any other keyword tool, you can begin with the Keyword Magic" just by entering a root keyword. If you need terms for your SEO campaign, just put anything related to your niche.
Like I have put a keyword "Public Speaking".
Within a moment, you will get thousands of accountable keyword ideas.
Relevant metrics including Monthly search volume, Trend, keyword difficulty(KD) will appear beside together in the report.
clicking that column header will lead you to more statistics to grab the keyword as your preference.
(c) Find the best one's through your Keywords list
You can see your keywords in the keywords list one by one and grab the best terms among them.
But, come on! It's very hard comparatively when it comes to using a filter to research.
Don't worry! Semrush will help you out.
Enable the "Advanced filters" below the keyword searching box.
Then include or exclude the keywords you want from the results and get a fresh listing.
For more dedicated keywords, you can set a custom range. Just the thing you have to do is enter a minimum and maximum value.
Remember, you don't need to set both limits to use these custom settings.
For example, if you want your keyword to start from four words count. Then You can put 4 into the "from" under "Word count".
Then hit "Apply Filters" and the page will take a quick load and show you the changes.
It's really a great way to narrow down your list. How complicatedly should you choose the keywords among hundreds?
Before we conclude this part(keyword research) of our Semrush tutorial. You should surely have a look at the tips for keywords research I have put below.
(d) Keyword Research Tips For SEO
Remember Keyword Difficulty – Be aware that, semrush has a scale of 0 to 100 for measuring the difficulty of keywords. Freshers are recommended to start with a keyword less than 60 to increase the ranking chance.
Do not think about search volume that much – don't rush getting keywords of hundred or thousand of search volume. The more you will choose the lower volume keyword the more you will increase the ranking chance.
Export the Keywords – keep your Semrush account clean by exporting your list to your local computer. In this way, your account will run smoother.
(e) Keyword Research Tips For SEO
Don't forget User intent – user intent Is the thing you should priorities above all. The Most actionable terms you should include in your keyword are "Price", " Sale" or "buy".
Choose keywords with low competitive density –it might feel good to choose high-level keywords. but the reality isn't that much easy. So, consider starting with keywords of 0.50 or less competitiveness.
Don't Ignore CPC Distribution Graph – Don't think much to check out the CPC distribution graph to see where are the users coming from.
Semrush PPC keyword tool is here to help you – your PPC campaign will only be perfect if you use the PPC tool which can decrease conflicting, remove duplicates, group managing for keywords and so on.
(f) Adding keywords to the SEMrush Keyword Analyzer
What do we understand by keyword research?
Most of the answers would be finding profitable ideas and then exporting these phrases to a CSV file.
Guess what I am going yo say?
There's another option if you use Semrush
Semrush lets you play with an advanced keyword analyzer by which you can track different keyword sets and also you can update their metrics.
You can also export those keywords to any platform of Semrush. To send keywords to the Keywords analyzer, tick the keywords on the left side of your keyword listings.
Once you have ticked the keywords, click "+ To Keywords Analyzer" button at the upper top-right side to send keywords.
You will see a green successful symbolized button next to your keywords which indicate that your keywords are sent.
That's it. Now, your keywords are sent to Semrush Keyword Analyzer.
(g) The position tracking tool
You can do this going through four steps:
Enter the keywords manually you want
Semrush can find the keywords automatically
Extracting data from Google analytics
or you can upload keywords from a text, CSV or XXL file
The position tracking tool
You may already know that I consider Semrush as the top SEO tool. It is the best rank checker for me. The position tracking is to make the whole process easy for you. It can accurately measure the ranking of your keywords.
You can set up the "Position Tracking" tool in two ways: from the "My Projects" page and also from your Main Dashboard.
(1) on the "My Projects" page click on the setup button below the visibility header.
(2) From the Main Dashboard click the setup button at the bottom of "Position Tracking" section.
Launch Position tracking tool by following one of the two methods above and in seconds, you will be shown a window where you will have to put necessary data.
You have to enter the search engine you prefer, device, location and the exact business name.
If you have listed your business in Google then keep in mind to put the exact name as given on google.
Adding Keywords to the Position Tracking tool
Now, you have to add your website's organic keywords to the position tracking tool's sandbox.
You can do this going through four steps:
Enter the keyword you want manually.
Let semrush analyze and find the keywords manually.
Extract keyword data and put into The tracking tool.
Or upload keyword from a text, CSV or any XSL file.
Now, you have to add your website's organic keywords to the position tracking tool's sandbox.
You can do this going through four steps:
Enter the keyword you want manually.
Let semrush analyze and find the keywords manually.
Extract keyword data and put into The tracking tool.
Or upload keyword from a text, CSV or any XSL file.
Hint: You can use any options to add keywords to the sandbox.
You will not get your keywords to the tracker immediately. You still have to add them to the project to lock them down (otherwise, you can lose data). That means you can use many options to drive keywords to your position tracker.
To speed up, the process just select a domain report, give a number to word count and hit "Add to sandbox".
Since I have already seen my top keywords on the domain overview page I have an idea of what to expect.
You can use the 'filter' button to see certain keywords containing specific terms or you can use this if you want to track different keyword groups.
Once your keywords are entered, you can click "Add to project".
I also suggest keeping the "send me weekly updates" option enabled so that you don't miss the information about ranked keywords when you are busy.
Unlike most of the Semrush features, the tracker tool would take a minute or two to generate reports. The more keyword you will add the more you have to wait.
Just wait at that moment or may I suggest you have a cup of tea?
Review the Position tracking report
After Semrush is done, you will be sent to the report page.
The 'landscape' tab will show you a quick overview of your domain's organic ranking, traffic, and competition.
Here are the metrics you will see on the page:
Visibility – your domain's visibility ranking on google is checked through measuring the organic keywords. Use it to judge Your full SEO performance
Estimated Traffic – It shows you the average traffic you get through your keywords. That number will be less than the actual traffic if you don't analyze all the keywords of your site
Average Position – Apart from the visibility tab, you can also see your keywords average position. If you add a keyword that you dont rank for to the position tracker, then it's rank will be 100
The position tracker tool also cares about the keywords that you rank for. It will show you the top keywords.
For this, you have to view the 'Keywords' card or the "ranking distribution" graph.
Additional data Sections that will help you
There are six more features of the "Position Tracker Report" page that will let you oversee your site. These are:
Top Keywords – It shows out all of your top keywords and estimates the position for each of your keywords.
Impact Cards – If you are worried about the changes on your website you recently made. Then look at the "positive impact" and "negative impacts" card to judge the perfection.
Top Competitors – By the next section, you can see a graph that maps your competitors for your top keywords. I will explain how to set up the "Top Competitors" shortly.
SERP Features – Semrush also has some SERP features for the keywords which you had added to the "Position Tracker". Thus time, the data are presented in a visual form to understand large statistics easily.
Landing Pages – You can't expect to rank higher if you overlook your Site's SEO. This section shows you the top landing pages along with the one which is recently improved or declined randomly.
Add Competitors to the Position Tracker
Now we are cleared with the position tracking report page. Then Let's the go-ahead for the " top competitors" section.
By adding your competitor's to the position tracker you are also automating the analysis of their keyword ranking,
To get started, click "Add Competitors"
You are allowed to add up to 20 competitors on the tracker.
To simplifying the process, semrush will itself add your paid and organic competitors But you can also add them manually.
After you click update, the page will load and show you with the updated "Top competitors" graph.
Sometimes you can notice your "Visibility Score" a lot greater than your competitors. But that's only because your score is calculated based on your competitor's top keyword.
If you add the top organic keywords of your competitors. Your website may come in the last.
(i) Auditing Your Websites Backlink Profile
The backlink profile is one of the few things you can evaluate on your domain overview report. The only thing that is difficult: it might be tough to detect the toxic links which also can lead you to penalties.
But semrush lets you isolate the harmful links with its advanced algorithm's within minutes.
As shown in the position tracker, you can launch your backlink audit tool from the SEO dashboard or from the projects page click the setup button on the " Backlink Toxic Score" section.
The only thing you have to do to set up the "Backlink Toxic Score" is choosing domain version you want to audit. We recommend keeping the default setting.
Enabling the root domain will let you check the entire domain backlinks pointing to your site.
There are more settings on the left side of the campaign score. But those settings are optional and doing something on those boxes may lead you to lose checking some certain types of link.
If you have thousands of backlink, the tool may take about an hour to generate a full report of your link profile.
While you wait for the process, consider connecting your google search console on the 'About' tab of backlink audit report page to get a more pro accurate report of your link toxicity.
(j) Recognizing Toxic Links
After the analysis is finished, Semrush will grade you according to the presence of a toxic link. The more you will have harmful links the more you will lose numbers.
Although my Overall toxic score looks great, I will still show you the process of cleaning up because not all of us are going to have a good score.
If you are like me who takes SEO seriously, then a toxic score of red or orange is a matter of panic.
But now it's not the time to lose mind. See what's wrong and look for solutions.
Go to the 'Audit' tab for the complete list of your toxic links. It will give a score to each of the backlinks so that you can easily determine the bad links and remove them.
The toxicity score is measured between 0 and 100. More score means more harm.
You will only determine a backlink as toxic when the linking domain:
is non-indexed or if the site is not indexed.
has a bad score of reliability and authority.
is marked by the Semrush users as harmful.
Has come from a shared hosting.
is located on an area which is geographically irrelevant to your audience.
has an unhealthy backlink profile.
contains unusual or spammy contents.
have unlawful or restricted anchor texts.
The above points work like algorithms that are known as "Toxic markers" in Semrush. You can click the domain score beside each of your keywords right side to know which of the above points were detected on that domain.
See some example toxic links from toxic domains below:
Deal With Toxic Links
To remove the hells (toxic link) from your link profile you can either request for their removal or you can use the Google Disavow Tool.
You can use both on the right side of your toxic links beside domain score by clicking 'delete' sub-menu.
You can delete all the links at a time in bulk but reviewing each link manually and deleting them is recommended.
If you elect a toxic link to remove it will be sent to the remove page of the backlink audit page.
You have to send messages to the domain owners requesting for backlink removal. To begin, click the send button and review the email template Semrush provided.
You can edit the placeholders or begin with the default one. You can also send a follow-up email if the domain user is unresponsive.
If you are done with the email, click send to track the link's removal status.
How To Use The Google Disavow Tool
If email requests failed to do the job, then Semrush recommends the Google Disavow Tool. Links that have to be disavowed will be sent to the disavow tab of the Backlink audit interface.
From that tab, you can export your link listing to a .txt file or you can import files from other sources.
The last and only thing to do is open your google disavow tool and upload the .txt if of your link list you have exported.
It's easy to process which might not take more than a couple of seconds.
Fix Lost and Broken Links
There are more things you can do with the Backlink Audit Tool. In the "Lost & Found" Tab you can view the newly created, broken or lost backlinks.
Some of those links may be from good domains which want reclamation.
You can reclaim your links only through sending emails to the domain owners.
Don't feel shy at all when sending emails because of that also Impacts on that website and you are helping them.
3. How To Use Semrush For on-page SEO
Previously I have shown how can you identify your top landing pages through the position tracking tool.
But what gonna you do with those pages?
If you already have workable skills about on-page SEO then thing's are going to be easier for you. Let's go-ahead starting with the internal issues of your site
(a) Audit Your Website's Health
Yeah, to stay healthy, regular exercise and vegetables are worth eating.
But in case of your website, to rank higher its overall health matters.
No Worry!!, Semrush owns a "site audit" tool for you. It detects crawl ability, site errors, broken links and gives you a score.
although there are six steps to configure the "Site Audit" tool the majority of the steps can be skipped. What's important here is you have to set the number of checked pages and define a reporting schedule on a regular basis.
Also, keep "Send me an email every time an audit is complete" box checked to assure that you are always aware with your website health.
The auditing process can take about a couple of minutes. It depends on the pages that Semrush has to check.
(b)Perform a Quick Website Checkup
After the process, you will see a score of your sites overall health.
You will also see the complete number of errors, warnings, and notices of your site issues which will help you to optimize that errors.
Clicking on the numbers will show you everything you need to do to optimize that certain issue.
For example, if you are suffering from errors, click the number on error section to view the full report.
Errors will show in the case when broken links are found, the image doesn't loads and so on.
You can now look at the errors with detailed information.
Take some time to browse all the tabs to find more issues and a way to fix them. You might need to hire a developer if there are advance issues found like:- issues related to AMP and Scripts.
But if you find some easy to fix tasks, then add those issues to your Semrush "to do" list so that you can fix them later and one by one.
Click the "send to Trello" button to create your list.
'Trello' is a web-based notepad which allows you to save lists, texts, images and more.
(c) How To Use The on-page SEO checker
The "on-page SEO checker" is another tool which will let you check the technical on-page setup of your pages.
The site audit tool performs as an overall health checker where on-page SEO checker is only dedicated to checking ON-Page SEO related issues.
To configure the on-page SEO checker, first, you have to choose a target location and then select the pages.
Semrush will suggest you a pre-made list of your top-ranking pages and target keyword suggestions.
You can access a separate list of your pages of google's first 100 SERP by clicking "Organic Research".
If you wanna put pages manually instead of selecting the pre-made lists or you can import information from a CSV file or your search console account by the additional options.
The rest of the steps are skippable. But I still recommend you to check the "Weekly Update" box for consistent SEO optimization ideas.
After all, click "Collect ideas".
On-page Optimization Ideas to help you
Now Semrush will take a load and provide you with optimization ideas.
When it is finished you will be shown the number of optimization ideas in these categories:
Strategy ideas – "Strategy ideas" is related to your keyword strategy optimization. It also allows you to check the keywords that you have used in your multiple pages and you might be competing against each other.
SERP Features – It helps you to optimize content for SERP and there are also tips for your content to get featured on the search engine
Content Ideas – Semrush also provides you with suggestions for content improvement. Some examples are better keyword improvement, readability improvement, Content-length optimization and more.
Semantic Ideas – Search engines today are not only in search of keywords they also look at your content's surrounding texts to find relevancy. Semrush will suggest you the words semantically to add in your contents.
Backlink Ideas – researching each of the domains manually which gives you competitors link are tough enough. Semrush is here to give you a list of domains from which your competitors are getting links.
Technical SEO ideas – we have discussed the earlier "detailed analysis" of the Semrush Site audit tool. The technical SEO ideas will only redirect you to the Site audit tool if you click "see detailed analysis".
User Experience – To even think about Ranking higher you must provide a good and compelling experience to the users. The "User Experience" section shows you such data like bounce rate, average session duration, load time to aware you the reflection of the audience.
4. How To Use Semrush To Research Your Competitors
I have mentioned throughout this guide about Competitors Research somewhere. An SEO tool is nothing if you can't spy your competitors through that.
You can add your Competitors to your project to spy changes, spy on their keywords and so on.
Let's think for some time that Grammarly is one of my top competitors. Now we will research Grammarly as a competitor.
First, I would start with a domain analysis of Grammarly Domain.
Since we ran the domain analysis before you can expect what will come next on the domain analysis report page.
Here's what we are waiting for:
Three things we will explain in-depth when doing competitor research. The first one is your competitors paid and organic keywords.
(a) Looking at your competitors' top keywords
Thinking which keywords are responsible for that much traffic of your competitors' site? Or which keywords would be monetized well based on their PPC data?
Your answers are on the right side of "Domain analysis" report.
However, there is an easier and actionable way to dig out more keywords from your competitor.
(b) How To Use The Gap Analysis tool to generate more keyword ideas
For commencing the next strategy, I want you to go to the "Keyword Gap" tool from the menu.
It's a very useful tool by which you can compare the keyword list of up to five websites together.
You can run a comparison analysis through entering your domain into the first slot and your domain into the next.
You can enter multiple domains but I am showing the process with an example domain only.
After adding domains, click Compare and Semrush will show you all necessary metrics.
Note – Here Grammarly is our example competitor and for what I am ranking higher than Grammarly on all keywords.
Identifying your competitor's top backlink sources
Go below the domain analytics overview report, you will see important information about your competitor's backlinks.
Just like before, here are the top anchor texts, link types, the ratio between follow and nofollow, and more in the report. Semrush can also tell where from they are getting backlinks.
With your top competitors' link sources you can use the same sources to build quality links for your website.
Get What your competitor's Use in Content strategy
Don't forget the proverb: "content is the king".
Content should get the biggest priority according to famous bloggers. Whatever you do search engine will never see anything first without content.
But what the hell do rankers perform to achieve the top of google?
Semrush will answer your question!
First, you should look out for the best content of your competitors.
How can you do that?
The content that has the most backlinks than any other is considered the best. To see that, run a domain analysis and notice the links on "Indexed Pages" section.
I can see that my competitors best linking page is grammarly.com
As I showed, see the contents that are linked most and notice the below topics on your competitors' content to grasp their strategy:
Content Topic Analyze – which of their content has the most links? Look at the topic of that content? Also, see their title to know the strategy that they use to attract the audience.
Keyword density – How often they are using the keywords? Make a list of related and focus keyword, use them as much as possible on your content but remember, you should use them very gently.
Content Resources – A content full of resources is always valuable to the search engine. Do your competitors' use video, animation, or info-graphics? How professional they are, how are those media's being used?
Meta Data Structure – Well, what are the meta titles and meta descriptions that search engines are giving priority? Find out that and optimize your meta details.
(c) Steal Ideas From Your Competitors' most Reached Content
Backlinks are meaningless if you can't drive your audience to visit your site.
So consider surveying the most viewed contents of your competitors' after backlink for some killer ideas.
To do, hit "Organic Research" from the "Domain Analytics" sub-menu.
Then switch to the 'pages' tab at the top menubar to see your competitors' entire blog outline.
You dont have to work to see the most viewed contents.
It is by default listed from the most viewed content to lower viewed contents. The listings will show you lifetime generated traffics on the right side of each page.
You can use the filter box to find articles. For example, if you search blog then Semrush will show you blog article.
I think you should have found your competitors' top content.
Now, you can make a list of that contents relevant to your topic and research them manually. What will you do with that research information that's up to you.
I want you only to understand that spying competitors' can learn you the way of stepping forward.
For example, If your competitors' articles are more powerful in length, resource or keyword then you should accordingly optimize yours.
Also, Are they using more images than you? In this case, you should use more infographics, animations to your content to Surpassed them.
There are lots of actionable steps to out competitors'. Keep eye on their contents, changes, and especially strategies and include in your plan.
I am sure you can go bigger!
5. Other Semrush Features (Semrush Tutorial)
Till now The features we have discovered are just the reason why we need Semrush. It's obviously the best SEO tool among hundreds as an assistant for your website.
There's hardly a SEO feature that can't be done with Semrush.
Feeling bored?
Be patient. There are still some interesting things that you would find great and I am going to share those things with you in the below.
(a) Topic Research tool for gaining content ideas
In today's time, people hardly find the contents they need among tons of content. To keep my blog always content flowing, I often use tools that can benefit me with fresh content ideas.
And Semrush deserves a good position among those tools. You can use it besides competition or keyword research.
To begin using it, click the "Topic research" in the Main-menu.
Like every other tool "Topic Research" also has user-friendly interface by heart. The only thing you need is a root keyword and you are done.
If you want to add competitors to generate ideas from them. you can click "Enter domain to find content on" and add your competitors' domain.
This is optional but it will surely help you if you want to generate fresh ideas from competitors.
To test the "Topic Research Tool" I am going to search "Blogging Tips" for example.
The "Topic Research tool" will show you the topic opportunities in four aspects:
(b) Card View
The card view shows you data on groups with brief information. Each card contains title related to your search term.
To see more Ideas and details click "Show More" and you will 2 sections beside.
The first is "Headline" which will show more topic ideas and the second one will show content variations.
(c) Explorer View
Switching to the "explorer view" leads you to the classic, table view mode like other tools.
You should use this mode if you prefer to see metrics like backlinks, share, social engagement but this mode won't show you as many content ideas in one page unlike other modes.
(d) Overview
The 'Overview' generates one-page full of content ideas based on your search term with related topics, suggested topics and more.
(e) Mind Map View
If you feel comfortable with content research tools like answer the public. You will also feel comfortable enough with the Semrush Mind Map view.
It exposes an interactive visualisation of your keyword related sub-topics. If you click on any branch, Semrush will pull detailed information around that sub-topic.
(f) Get more Followers Through The "social Media Toolset"
You heard right- Semrush also features tools for increasing your social media presence. Let's go over those tolls quickly.
Social Media Tracker
If you are an active worker on the top social networks, Semrush can help you to consolidate your valuable data in a place so that you can control all projects in one place.
It also lets you track the activity of your audience and competitors' steps.You can find this tool on your projects dashboard.
Social Media Poster
To improve your engagement through social media, You should always be active on major platforms and post at the right time.
But "Social Media Poster" made it easy since you can automate your posting process in all social media platforms at a time and within minutes. Just put a post and set a schedule, Semrush will itself spread your content at the right time.
(g) Semrush SEO Academy is Here To Enrich Your Knowledge
There is no limit to learn! Whatever it is but learn new things every day
Same Words to SEO learners. In addition to using Semrush as a tool, you can use it as a school as well
New tips, tricks, and updates are all that you can find in Semrush Academy
Semrush provides course-based various information to increase your thinking like the link building, advertising, technic issue fixing, and more
The best news is: Semrush Academy is Totally free for everyone!
Once you become an expert on everything, there's a chance for the exam to get a Semrush Certificate of your hard work
6. Semrush Pricing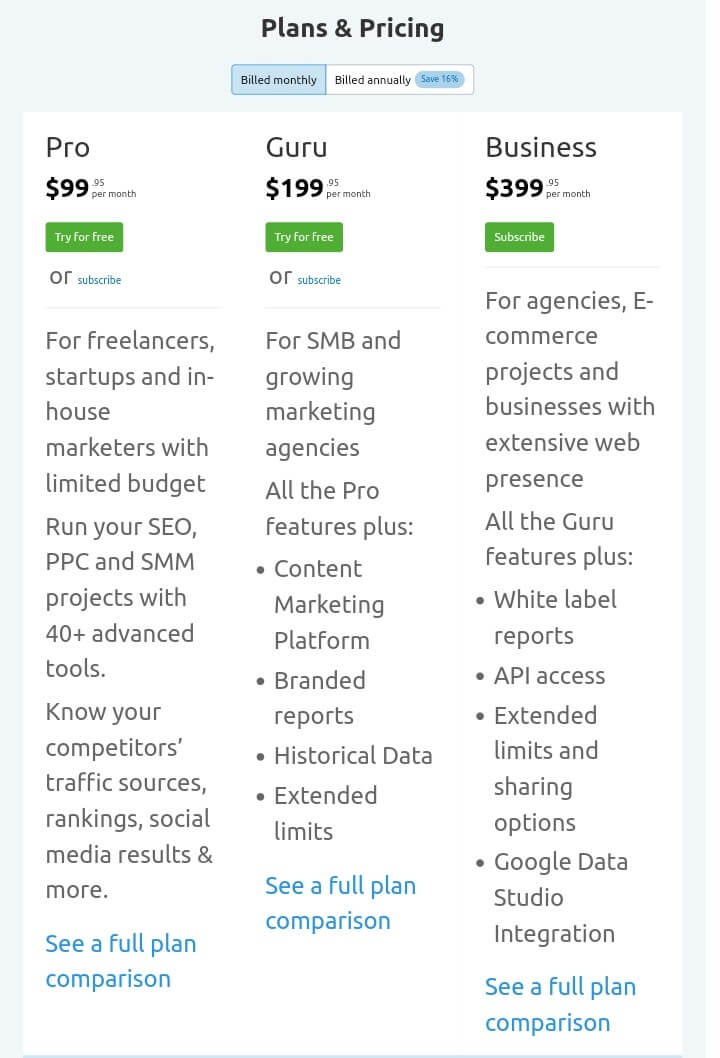 Semrush is currently providing four plans for you. You can purchase any plan on monthly or annually based payment.
To save money we recommend choosing the annually based plans. Yeah, It costs more but comparing with the price of monthly plans you can save money at the end of the year.
Let's have a look at which plan would be the best for you.
(a) Pro Plan
The pro plan is a qualified plan for freelancers and single or few businesses owners.
In this plan, you will not be able to create more than five projects and is it is limited to five projects only, professional skilled freelancers can't work with it when they have thousands of client.
Blog or small business owners and newbies are also welcomed to this plan
By the way, this plan costs 99$ per month and 996$ if you purchase annually.
Why Should You Choose The Pro Plan:
Only 99$ per month as a professional SEO tool by which you can boost your business profit in future.
Hassle-free and you will be able to do all your miniature tasks SEO in one certain place. It works as an assistant greatly.
Semrush's support time will always help you and you will get security from them.
You don't have to sit and write hundreds of keyword every day anymore.
There's no need to connect any users on your account. You are the only person.
(b) Semrush Guru Plan
Semrush guru plan is calling you if you are running more than five businesses.
Mid-level freelancers with a good number of clients can rely on it. It is more beneficial for digital marketing practitioners comparatively than the pro plan.
You can get more powerful metrics to pay attention to content strategies and content reading duration which may help you a lot with the audience engagement.
The Semrush Guru Plan will cost you 199$ monthly and $1992 for annually
Should I take the Guru plan? Why?
If you own a digital marketing firm and run numerous projects daily.
The guru plan lets you access the historical information that worked in the past but don't work now.
You want to share PDF files with your clients and businesses and you don't want semrush's default branding to be used, then the Guru plan suits you.
(c) Enterprise and Business Plans
The enterprise and business plans are for large industries, prominent businesses or huge agencies.
I would highly suggest all marketing platform, freelancers with a huge number of clients and future thinker to hit the purchase button of guru plan When an expense is not a matter of consideration.
What about the price?
Well, that is 399$ monthly and 3996$ for annually
Reasons why should you take the enterprise and business plans:
No limitation on your plans or data. Use semrush as much as you can no matter if you have tons of client or businesses.
API connectivity and application software management.
Studio files, white labeling for google data, PDF Reports scheduling and so on.
Semrush And Ahrefs! Which one would be best?
A little bit confused?
Is Ahrefs modest or should I begin with Semrush?
Not to worry when I am here! I will go through an in-depth explanation to let you know the best SEO tool between Semrush and Ahrefs.
Ahrefs is mostly a backlink analysis tool as it was created for auditing link profile but in the past two years it developed a lot of tools and started competing Semrush recently.
Features of Ahrefs Including:
Rank Tracking Tool
Technical Auditing Tool
Competitors' for keyword analysing
Keyword Research tools
On the other hand, Semrush win the game by adding some extra features.
Amazing features that Semrush includes:
Competitors' PPC Campaign analysing
SEO content Optimisation various tools
Log files analysing tool and much more
Semrush is even digging to reach the link analytics market. They are owning a link index for years.
Ahrefs and Semrush both have good tools to boost your business but let's run a comparison and find which is the better.
Best Tool For SEO Keyword Research (Comparison between Ahrefs and Semrush)
Ahrefs
Ahrefs features two important keyword research tools, namely: keyword explorer and organic keywords.
Let's see how much worth is each of those tools. Keyword Explorer is like most of the market tools.
you just have to type in a keyword and it will show you the search volume along with which keyword would be unique, how much traffic will you get if you rank for that certain search term.
It matters a lot when you are doing SEO.
What makes the keyword explorer great is this tool can show you hundreds of keyword suggestion.
And you can use "Organic Research" to reverse your competitor's website.
Let's see what users say about Ahref.
Now let's move on Semrush
Semrush
An uniques thing you may have already known that you can find a lot of accurate keyword data in one page.
Mostly Ahrefs provides you with the data of PPC and amount of traffic but Semrush gives you more data such as the search volume trends, results, landing pages overview and more.
I showed all these tools features in above detailed semrush tutorial and review.
Whatever you do but be sure enough before you start to work with a root keyword.
And believe me! Semeush will really help you to make decisions.
Also, Semrush has a very good response when it comes to research keywords. If you want Semrush to Make a list, it will just greet you but that thing is what Ahrefs can't do.
Remember The PPC Topic?
When you are at home and losing all your mind to run a successful PPC campaign, At that time People are gaining tons of traffic Using Semrush
Don't believe? Check out the review below.
Lastly, Yeah, Ahrefs could have a better user interface but Semrush wins the race when it comes to research keywords since Semrush provides far more information (like CPC and PPC).
The best one for analysing backlinks?
The "Link Index" tool that Semrush is providing is quite cool. It indicates that they are slowly improving their Backlink research.
But the index size is just a matter of consideration. You can find the user interface relevant too.
When you consider getting everything without 57 links, you get a big win. It takes much time when you intend to make a link.
According to Backlinko, Semrush and Ahrefs both are great for link researching when it comes to their functionality.
But the newly developed tool, index and user interface of Semrush is quite well.
Best For Rank Tracking
Live every other tracker tool Ahrefs searches periodically for keyword lists but Semrush Show you more helping data, namely:- Visibility Score and Semrush keeps updating the tracked keywords every day
But Ahrefs doesn't update list more than twice a week. It depends on the plan you have subscribed for
Ahrefs lose the race when it comes to rank tracking
But both do the same what a rank tracker usually does. Still, Semrush often updates their features and provides stable data.
Best Support (Semrush or Ahrefs?)
Actually, the Support team is always good whether you are using Ahrefs or Semrush.
Both of them reply swiftly to customer queries but still when it comes to hassle-free and easy to send queries, Semrush wins the test.
In the case of Ahrefs, You just have to hit the chat button at the bottom-right corner and you have to give some information to send your query. But it takes little bit more time as compared to semrush.
Semrush support is really awesome, and helping you in solving your all queries and questions.
!Semrush wins!
Semrush is lucky that he has won the race!
By going through the comparison between Semrush and Ahref we can say that Ahref is not that much good in terms of features and other supports.
Semrush is better on features and almost on all aspects.
Semrush Pros and Cons
Come on! None in the world is perfect!
Semrush is a tool. It obviously has some positive and negative aspects.
Though Semrush is good in features and working well on the market, we should consider it's negative sides also.
Let's see what's in there!
Pros of Semrush
Proper Understanding of Your Site's Performance – As I said before, Semrush is ideal for conducting SEO. It really understands your site. It lets you know if your site is increasing traffic If your keywords are ranking or drowning. You can easily optimize your technical things and create high-quality backlinks. You can prevent others from spam and grow the reliability of your site..
Valuable Keywords availability – Finding profitable keywords is significant in SEO. And Semrush not only shows you the keywords you want it also shows why the keyword is best for you (I mean the metrics) You can target long-tail keywords easily and supply a good value to your keyword list.
Competition Understanding – there are hundreds of companies that compete for the same keyword. Semrush will show you the path to spy your competitors', Grasping the strategies that your competitor use, and lastly the keywords that they are in need.
Existing Traffic Maintaining – keeping the existing audience stuck to your site is the way to generate fresh traffics. Semrush lets you link google analytics, control keyword position and more to serve your existing traffic.
Making Valuable Backlinks – The more you get links the more will you rank. The backlink is the second thing after the content you should prioritize. By Semrush, you can see where your competitors get links from, how can you gain backlinks from a site of good authority and link building tricks and tips are also available on Semrush Academy.
Cons of Semrush
Unfriendly User Interface – The Interface would be a little complicated for newbies. It requires certain experience and skills but this can be solved with a short course in SEO and Digital Marketing.
Multiple Users not allowed – multiple users from different devices are not allowed in Semrush. If you share your login details with another user, the earlier user will lose access to access Semrush on his device. Semrush should fix this problem.
Fear Factor – Sometimes Users say that Semrush keeps sending warnings to ensure that subscribers stay lock into their service. This often sends the subscribers away.
Complicated enough – you won't get yourself comfortable easily with Semrush. There are several tools that may be hard to use for a first-timer. It takes a while to be skilled.
Inaccurate Ad Spend Data – users have often complained about the difference in ad spend data. It can be confusing for CPC marketers.
How To Get SEMrush Pro Free Trial for 7 Days Worth 99.95$
You will be surprised to know that you can access Semrush Trial For 7 Days.
Yeah, heard right! You are very lucky that you are a reader of bloggingqna.
Bloggingqna and Semrush have partnered where Semrush is serving a 7-day free trial for Bloggingqna's audience.
Check the below Step-By-Step guide on how to get the Semrush Pro account free for 7 days.
Step 1: Click on this special link to get the 7-day free trial and you will be seeing the page to step forward.
Step 2: Then click on the "start 7-day free trial" Button.
Step 3: Then you will be redirected to the above page where you have to put your email and password. Then click "Create Your Semrush Account".
Step 4: the next page that you will see is the plan selection page like the above image where you have to select a plan and hit "Get Free Trial" Button.
Step 5: Then you will see the billing page where you have to enter the necessary information (like card number, CVC code) to access your free account. Just fill that boxes and click "Place the holder".
You are all done. Now you can enjoy your free trial for 7 days. You don't have to re-purchase the plan after the end of the trial. Your account will be deactivated after 7 days if you do not purchase a plan again.
Semrush Tutorial & Review FAQs
Q1. Is Semrush Good?
I will say obviously it is a good tool. After all, you are able to use so many tools in one place!
Q2. How Much Does Semrush Cost?
There are four plans in Semrush such as- Pro, Guru, Business, and Enterprise.
If you are blogging and making money for a couple of years then you should choose the pro plan which costs $99.85 per month.
If you own a small digital marketing agency then the guru plan which costs around $199.85 per month suits you.
Their business plan is about $399.95 per month and for the enterprise plan, you have to talk with them.
Q3. Is Semrush Provides Accurate Data?
Yes, it is. You will almost get accurate data.
Q4. How To Use Semrush For Free?
Semrush doesn't provide any offer for a free account unfortunately. But you can use Semrush Free Trial by Clicking here.
Q5. Which is the best alternative to Semrush?
The KWFinder is quite the same as Semrush. You can go with it.
Conclusion on Semrush Tutorial & Review
Now you can make a decision that Semrush is perfect for your website. From Site Auditing to Keyword Research everything can be done smoothly through Semrush. Just once you have the expertise it well, you can go for winning the Everest.
It is being more developed day by day and it will change a lot over the next few years.
Many people say that designing a search engine is quite harder. Maybe it is true. But if you use the right tools in the correct way, you can for sure gain the secrets to rank your site.
Semrush is considered the best tool according to numerous people. It can greatly spy on competitors' keywords and make you a good path to reach the top.
Hope you liked this Semrush tutorial & Review. If you have any queries you can comment down below. We will reach you shortly.
Stay connected and don't forget to share this article.
Good Luck For Using Semrush !!