Verified
100% Working
A2Hosting Reviews
Best Hosting to Start a Blog at an affordable price based on 150+ Real Reviews. WIth Unlimited bandwidth, Free SSL Certificate, and Auto backups
50+ People Used
Only Few Left
Looking for the A2 hosting Reviews or searching for the benefits and features you will get with a2hosting?
Then, you landed on the right page on the internet.
There are lots of hosting companies in the market that offers cheap web hosting like Bluehost, Hostinger, MilesWeb, Hostarmada and many other hosting services.
Today, In this post, I will share in detail Why A2 hosting is the best web host for your site and, will give you a detailed guide about its plans, features, and full review of this A2 hosting.
About A2 Hosting Service
A Hosting can make or break your site.
So, Choosing the best hosting is must for every blogger to start a blog, and I recommend you to go with the best hosting at an affordable price.
A2hosting is the best fit for every person who wants to start their first blog.
A2 Hosting has been around since 2001 and they are providing super awesome services at a reasonable price.
Our readers can currently save 72% on A2 Hosting plans. Use this discount link to get the best price
Its original name was Iniquinet and it was founded in 2001. In 2003, the company was renamed A2 Hosting after Ann Arbor, MI, where it is based.
A2hosting deals in various hosting like shared hosting, managed wordPress hosting, cloud hosting, managed VPS hosting, dedicated hosting, and reseller hosting.
You can choose accordingly as per your website traffic and requirements.
A2 Hosting also supports all of your favourite content management platforms, meaning that it will fully optimize the power of your
Now, the question comes is A2 Hosting is Right Choice for your site?
Yes, Of Course, No Doubt!
Let me tell you its amazing features.
General Info and A2Hosting Review
Top Pick
Specifications
Speed: 320ms (January 2019 to January 2021 average)
Uptime: 99.93%
Support: 24/7 Technical Support
Apps: WordPress, Joomla, Drupal, and Magento
Features: Unlimited Bandwidth and Storage, Free SSL, Anytime Money Back
Hosting Plans: Shared, WordPress Hosting, Managed VPS Hosting, Reseller, and Dedicated Hosting services
Free Site Transfer
Overall A2hosting is the best and fastest shared hosting if you want good speed with amazing benefits.
Is A2 Hosting Service Right for Your Website?
A2hosting is the most renowned and known hosting provider in the market.
Mostly, digital marketers and bloggers knew A2hosting for its 20X Faster web hosting, as they also said in their tag line "Our Speed, Your Success".​
And trust me, They proved themselves right in terms of site speed and performance. You will not get this type of performance and speed of your site at this price.
Still confuse? If A2 Hosting is best for you or not?
Let me show you the live FB poll results about the best hosting that people recommend.
Our readers can currently save 72% on A2 Hosting plans. Use this discount link to get the best price.
Now, let's check out below some of the highlighted features of A2Hosting:-
1. Performance Of A2hosting
A2 Hosting stakes its reputation on "high powered hosting" making speed and reliability their top priority.
A2 calls its SSDs "Turbo Servers" that can load pages up to 20 times faster than a typical non-SSD server. It will make your site load faster and ultimately gives ranking in SERPs.
2. Pricing Of A2hosting
now the most important part is how much it will cost you. Let's see a2 hosting plans and pricing.
3. Support Of A2hosting
Support of A2hosting is awesome. You will get 24*7/365 customer support.
If you face any problem with hosting you can contact a2 Hosting customer support at any time. They are ready to help you 24*7/365.
A2 Hosting's live chat customer support was a little slow while connecting to them, taking around five minutes to hop on. But from there, everything was smooth sailing. Check out the below screenshot of How fast they reply in live chat.
4. Ease of Use Of A2hosting
A2hosting Cpanel and user interface is quite complex for newbies. It will take some hours to understand everything properly.
After understanding everything, the UI and Cpanel is so easy to use and access that you can perform any task in a few minutes.
5. Features of A2hosting
A2hosting provides lots of amazing features that are super awesome at this price.
Why You Should Choose of A2Hosting
Below are some highlighted and important features of A2hosting that are amazing in this price range.
1. Unlimited SSD Storage & Transfer
All plans in A2hosting come with unlimited SSD storage which will give you ultra-fast and smooth functioning of your site.
In turbo boost and turbo max plan, you will get Unlimited NVMe Storage that will enhance your speed to the next level.
So if you are highly concerned about your site speed then you must try its turbo boost or turbo max plan for sure.
2. Free Site Migration
A2hosting provides free site migration while another hosting charges for migrations. If your site is hosted on other hosting like Bluehost, Hostgator, etc.
Then, A2 Hosting will personally move your existing website over to their servers at no extra charge on all plans without any downtime.
All you need to do is contact their customer support department with your cPanel account credentials, and the rest will be taken care of.
3. UltraFast Site Speed
Site speed is the main factor of ranking these days. The fast your site loads, the best ranking you will get in SERPs. Site speed is like slow poison, it will harm your site slowly and badly.
So always try to make your site load faster. And A2hosting hosting claims the best site speed with their hosting.
All of the A2hosting features are designed to make your site "screaming fast." And even the name of each pricing plan is related to speed (like "Swift" and "Turbo").
4. 99.9% uptime commitment
One of A2 Hosting's biggest selling points is their performance. They committed 99.9% uptime and, they proved it right.
If you have even high site traffic then, no worries, A2hosting is capable to handle it without any downtime on your site.
Check out below for the latest stats of A Hosting downtime and uptime.
A2 Hosting average speed 2019-2021 | See stats
5. 24*7 Customer Support
Customer support is a very important thing when you are purchasing any product or service.
Because if you face any problem then customer support is the only way through which you can solve your problem if it is related to the service.
And In hosting customer support is a very important part. Many newbies are not aware of technical knowledge and problems related to hosting, Cpanel, installation, etc.
At this place, Hosting support can help you.
And it can make your image or it can also downgrade your brand. A2hositng is very good at providing hosting support.
There are lots of articles to solve your basic queries related to hosting and other technical stuff.
And if you want to chat with humans or want to talk with customer support, they are also proving different chat supports like:-
Live Chat Option
Calling with great customer service
Ticket based help.
This is something amazing, their excellent customer service replied in just 20 seconds.
You can contact them anytime if you face any issue with the hosting. They respond to you asap as shown in the above screenshot, which I tested personally.
6. Free SSL Certificates
SSL Certificates are necessary these days for every site. Even Google also gives a high ranking to sites that have SSL certificates as compared to without SSL sites.
SSL certificates allow your site to send and receive data securely. They are good for providing user trust and even boosting your search rankings slightly.
With A2hosting you will get free SSL certificates in all of their plans.
Some other hosting providers charge for it but A2hosting provides it free of cost in every plan.
7. Free Cloudflare CDN
A content delivery network (CDN) places copies of your website on servers throughout the world.
This allows users to be served from a host that is local to them. This results in faster site speed.
A2 Hosting plans include CloudFlare free of charge. Cloudflare is a commonly used CDN.
A2 Hosting claims that a website using Cloudflare sees 200% faster page loads, uses 60% less bandwidth, and is more secure.
Installing CDN
There are two ways to activate your CloudFlare CDN:
Using the Cloudflare cPanel plugin
Signing up on CloudFlare's website.
If you decide to use CloudFlare's cPanel plugin, you can easily enable and disable Cloudflare for your domains and subdomains using your A2 Hosting cPanel environment.
8. Anytime Money-Back Guarantee
The most amazing and powerful feature of A2 hosting is, you will get any time money-back guarantee.
Yes, you heard it right.
Anytime money-back guarantee.
With this feature, A2hosting created a barrier for other hosting providers.
Other hosting providers like Bluehost, Hostinger, Hostgator, Wpx Hosting, etc provides 30 days or 45 days money-back guarantee but a2Hositng provides anytime money-back guarantee.
Let me explain you with an example:-
Suppose you purchase A2 hosting for 1 Year and, after 3 months or 4 months, you feel like their service are not good. Then you can ask for the money back. They will deduct the amount of hosting, for the months you used it.
And the rest of the amount will be refunded to you.
Plans, Pricing of A2 Hosting
Currently, A2Hosting provides 4 hosting packages in their shared hosting service:-
(1) Startup Plan of A2 hosting
Startup Plan: This plan starts at $2.99 per month. This plan is perfect for one website with five databases, 100 GB storage and bandwidth, a free SSL, plus cPanel. Also you will get other key features like website staging, 24/7 excellent customer service, and other features.
(2) Drive Plan of A2 hosting
Drive plan: This plan starts at $4.99 per month. It supports unlimited websites, databases, storage, transfers, SSL certificate, cPanel, and single-site migration. Also, you will get SSD storage with free site migration.
(3) Turbo Boost Plan of A2 hosting
Turbo plan: This plan starts at $9.99 per month. It comes with everything from the Swift plan, plus Turbo (20X speeds) and the A2 Site Accelerator plus you will get Unlimited NVMe Storage with a speed enhancer.
Our readers can currently save 72% on A2 Hosting plans. Use this discount link to get the best price.
(3) Turbo Max Plan of A2 hosting
Turbo plan: This plan starts at $14.99 per month. It comes with everything from the Swift plan, plus Turbo (20X speeds) and the A2 Site Accelerator plus you will get Unlimited NVMe Storage with a speed enhancer.
Also, you will get a low bounce rate with this plan and other SEO benefits.
150+ Real A2 Hosting Customer Reviews
Above I have shared everything about the A2 hosting review and also shared about A2hosting features and, their benefits to all the bloggers out there.
​Now, I am sharing some real 150+ A2 hosting reviews by its customer. It will help you to make your decision about A2hosting.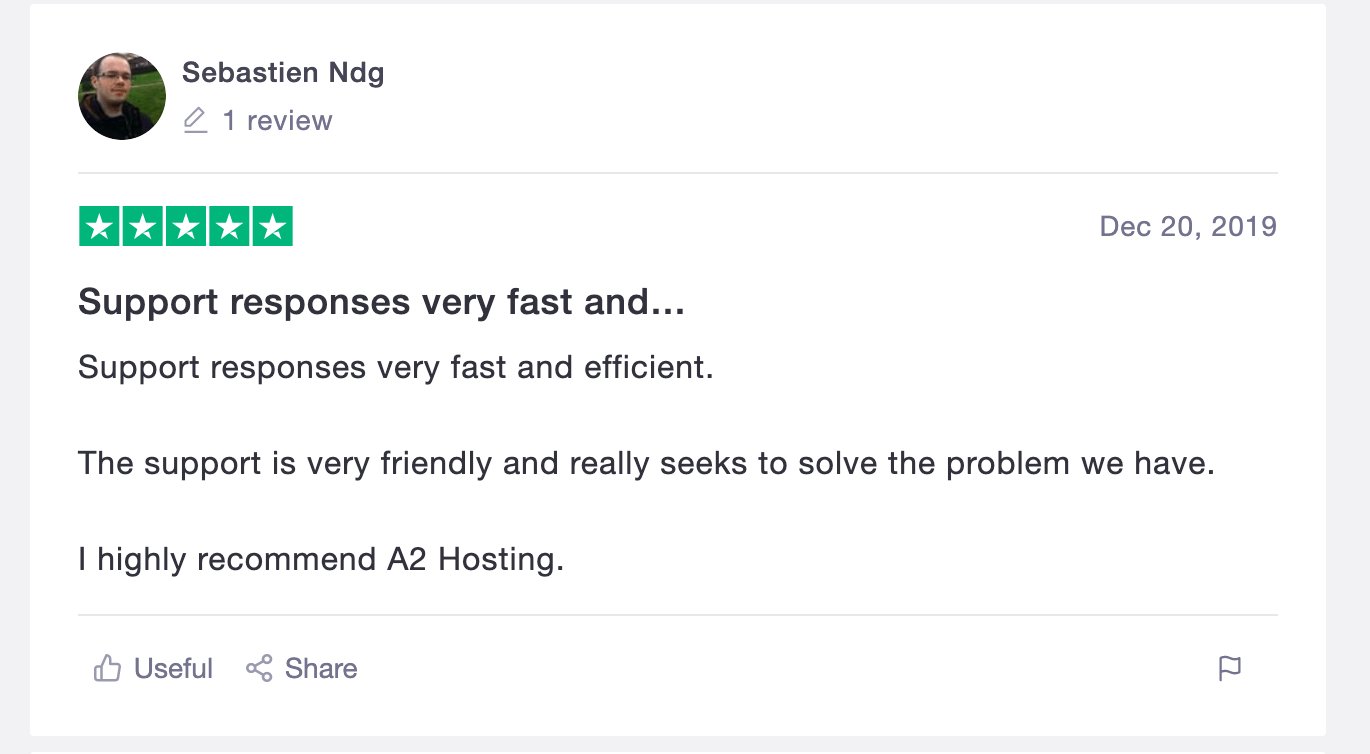 FAQs for A2Hosting Review
Q1. Q1. Is a2 Hosting good?
yes Off course a2hosting is very good hosting for beginners.
Q2. What is a2 Hosting account?
A2 Hosting is a popular web hosti​ng services company that provides hosting for bloggers and Digital Marketing.
Q3. Why should I choose A2 Hosting to host my site?
2hosting is the best for beginners. Here are few advantages of a2hosting:-
SSD storage with every plan
Anytime money-back guarantee
Free site migration
99.9% uptime commitment
Q4. Which A2 Hosting plan should I get?
The answer depends on your need. If you are a beginner then shared plans are enough for you. But for high traffic vps or dedicated hosting will be great.
Q5. Where are A2 Hosting's servers located?
A2hosting data centers are located in Michigan, Arizona, Amsterdam, and Singapore.
Q6. Can A2 Hosting handle high traffic?
Yes, A2hosting can handle high traffic for sure. But depends on your plan you .bought. If you're hosted on a shared hosting plan and consume more resources than you're allowed to, you'll be asked to upgrade to a higher plan.
Q7. Can I upgrade my A2 Hosting plan later?
Yes, you can do it later anytime. If needed.
Q8. Do I have to register my domain name with A2 Hosting?
Q9. Does A2 Hosting offer a month-to-month payment option?
Yes, A2 Hosting offers a month-to-month payment option. And you don't have to pay any setup fees for starting your blog.
Q10. Do I really get unlimited resources with A2 Hosting's hosting?
As it said "unlimited" disk space and bandwidth, the reality is that they're not actually unlimited. It simply means "unlimited" usage based on the Terms of Service of the company.
Q11. Does A2 Hosting offer free SSL?
Yes, For sure, A2 Hosting offers free SSL with all of their plans.
Q12. Do I need to purchase the addons that A2 Hosting is offering me?
No, you do not need to purchase any addons while purchasing. You can always purchase any addons later, if needed.
Final Words & Discount Link
I hope now you don't have any confusion about A2hosting, why it is best to host your site. Because is A2 hosting is the Best Hosting to Start your Site at a discounted price.
Use this A2hosting 51% Discount Link to save your money when you purchase hosting. And share this post with others also so that, they can make the best choice on hosting.
Because hosting can make or break your site. 🙂