Internal Linking in a blog is most important that helps you to boost your organic ranking in the SERPs.
In this Link Whisper review, I will tell you how the link whisper plugin will make your internal linking work super easy.
If you have a money making blog with lots of blog posts published then trust me, this plugin is super helpful for you.
I am using link whisper from April 2020. One of my best decision. It made my all interlinking work super smooth and easy.
Check out my purchase receipt below:-
Stay with me till the end, and I will tell everything about link whisper in this review article.
So, without wasting time let's dig into this link whisper review.
What is Link Whisper
Link whisper is an amazing WordPress plugin that will help you in automatic internal linking within your blog posts with the help of Artificial intelligence.
It scans your whole blog and understand all the anchor text that can use for internal linking for other post. You don't need to check each blog post manullay.
It will save lots of your time and efforts. With the help of Artificial intelligence it will automatically suggest you which anchor text is suitable for which blog post.
Also, It will tell you the orphan blog post which are not internally linked with other blog posts. And later you can do internal linking for the same article within your blog.
Internal linking is one of the most underrated on-page SEO techniques. Mostly amateur bloggers don't put much attention on internal links. They always focus on external links.
And, that is one of the biggest mistake as a newbie.
All in one, Link whisper will speed up your internal linking process and ultimately help you rank better in SERPs.
Why Internal Linking Improves Your SEO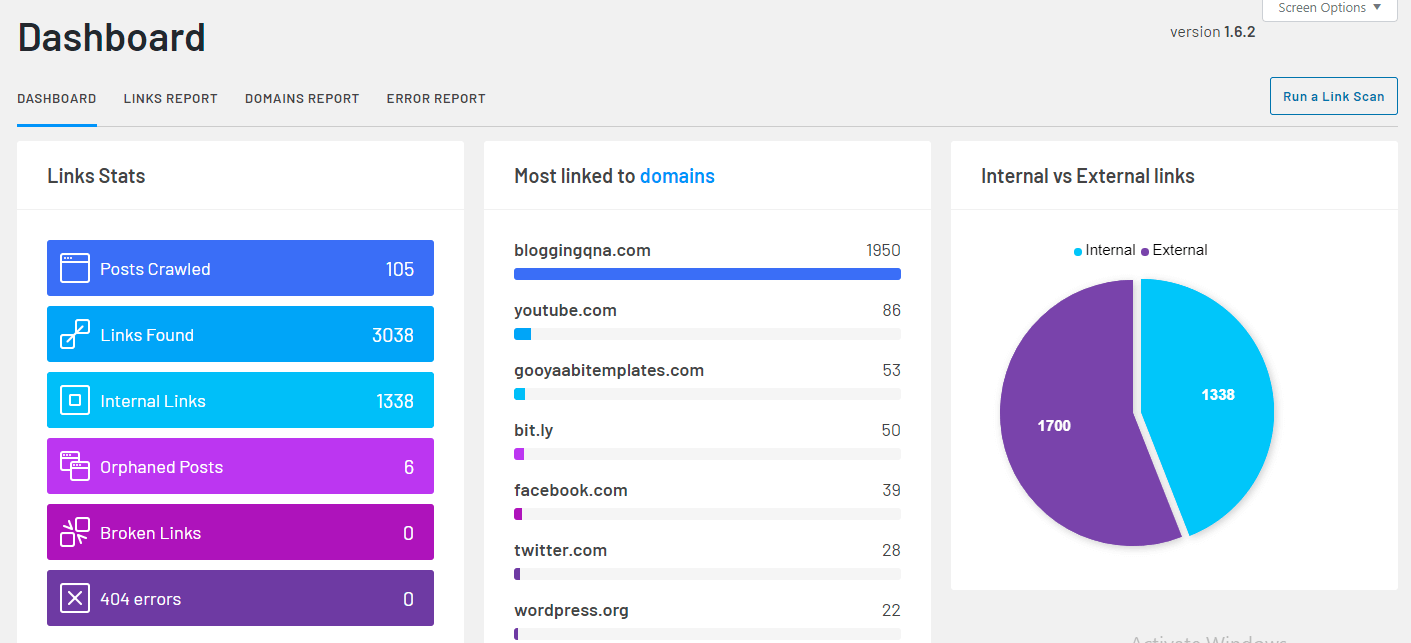 Before going deep into the link whisper features, Let me tell you why internal linking is important and how it will improve your SEO.
Basically, Internal linking is the process of linking your blog post with each other within the blog. Genrally, we take or give link to external sites.
But when we do the same within our blog then it is known as internal linking.
When you do Internal linking correctly with relevant posts, it build a cluster and hierarchy of that topic that help to understand google more efficiently and you will get good ranking in search engines.
Not only on that specific targeted keyword, but it will also help in ranking on multiple LSI keywords of that particular blog post.
For more info you can watch below given video tutorial. It is in #HINDI_LANGAUGE.
This whole activity helps users as well as search crawlers to find relevant content. It increasers your user interaction on your blog and decrease your blog overall bounce rate.
Also, Your blog post will crawl and index quickly without any issues.
The Problem With Internal Linking
Now, Let's see why you need link whisper for your blog internal linking?
If internal linking is so important, why do so many websites fail to do it? Well, the answer is quite simple: it's hard, painstaking, and time consuming process.
When you have lots of blog posts published in your blog you don't exactly know how to internal link all the posts with each other.
Before link whisper this is how I use to do internal linking for my posts:-
And trust me, this is very time consuming process.
And here is the place where link whisper done all the work for you. It will suggest the best internal linking for article with the help of artificial intelligence.
To know more in details check out the amazing features of link whisper plugin.
Features Of Link Whisper
As I said it's an AI based plugin for best internal linking. Below let's see more amazing features of the link whisper plugin.
(1) AI-Powered Internal Link Suggestion
in the wordpress library there is no such plugin which will suggest you the best internal linking suggestion with the help of AI.
It works on a simple ever-learning algorithm that analyzes your blog posts as you start writing. It then shows you all the link suggestions in real-time and you can add links with a single click.
When you start writing the blog post. In the bottom of your article you will see a link whisper suggestion tab for internal linking. As you can see in above image.
From there you will get all the internal linking suggestion on automation. You don't need to analyze whole blog post for the internal links. Its AI will scan and suggest you the best internal linking.
(2) Link Reporting
Link reporting section in link whisper will tell how many links each post have in your blog. From here you can check all the inbounds and outbound link of any particular post.
You can access these reports by clicking on Link Whisper icon in your WordPress dashboard's sidebar and select reports:
The detailed reports dashboard shows you the exact number of:
Inbound internal links
Outbound internal links
Outbound external links
Below you can check my link whisper reporting for the reference.
(3) Add Internal Links Collectively
Link Whisper also allows you to add internal links in bulk.
To do that, go to the reports dashboard and click on the "Add" link. It will show you all of the blog posts that have relevant content to add an internal link to the selected post.
(4) Auto Link
With the recent update in link whisper, they added 1 more amazing features named auto link.
Using Auto Link you can automate internal and external linking pretty easily. It adds an option to automatically link to a URL of your choice every time a specific keyword is mentioned anywhere on your posts or pages.
just check out below image for better understanding:-
There are a couple of settings for how auto-link functions. Such as:
Add one link per post (I highly recommend activating this)
Don't add a link if a post/page already links to the URL
(5) Target Keyword
With the new update of link whisper you will get targeted keyword feature also. This feature will help you to rank your particular on your targeted keyword that you insert at the time of writing blog post.
Check out below mention image:-
in the above image, you can see that….
I want to rank on Keyword "How to start a blog and start a blog".
Similarly you can add your targeted keyword in link whisper for every individual post and then link whisper will suggest you best internal linking with the help of AI to rank on that specific keyword.
(6) Google Search Console Integration
yes, You heard it right. You can integrate search console with link whisper.
And this is my favorite feature of this amazing plugin. It pulls out all the keywords from the Google search console which means the keywords you're already ranking for on second or higher SERPs will be taken into account by Link Whisper.
Then you can choose those keywords for internal linking for more higher ranking in SERPs.
This is exactly what we need. The most underutilized strategy is adding internal links using keywords you're already ranking for.
Pricing Of Link Whisper
After checking the amazing features of link whisper. Let's checkout how much it will cost you. The plans and pricing of link whisper plugin.
Link whisper provides 3 plans. You have to choose the best plans suits you.
Single Site License
3 Sites license
10 Sites License
As the name suggest, you have to choose according to your need. features in all 3 plans are absolutely same.
Link Whisper Installation Guide?
First of all, Click here to purchase link whisper license key, After the purchase check your email for the plugin download link and license key.
STEP 2: Now download the link whisper plugin from the link you got in your email.
STEP 3: Go to your WordPress dashboard and click on "Add new Plugin".
STEP 4: Now upload the plugin that you downloaded from the email. Then install and activate the plugin.
STEP 5: Now go to the link whisper setting option. And enter your license key to run the plugin successfully.
STEP 6: Click on activate license key and You are done with it.
Support
Till the date, I haven't tried the customer support of link whisper because I didn't face a single issue till now.
It's a perfect plugin with no issues. In any case, if you have some queries. They provide full detailed documentation that will help you in everything.
So hardly, you need to contact support team. The plugin itself is complete with no issues.
Pros and Cons
Everything has some advantages and some disadvantages. Below are the pros and cons of link whisper plugin.
Pros
Simple To Installation
Easy To Use and Understand
Instant Link suggestions
Relevant internal link suggestion
Powerful link report
Editor compatibility
Time saving
Full control over the linking process
Affordable Pricing
You decide which links you want
Multiple suggestions for the same anchor text
No problems if you remove Link Whisper
Works well with all major page builders
Cons
No external link suggestion
Some features are quite complex for beginners
No Lifetime deals for the plugin
Sometimes suggest linking for Headings
FAQs For Link Whisper plugin
below are some frequently asked question and answer related to link whisper plugin.
Q1. What Happens If You Remove The Link Whisper Plugin?
Nothing will happen with the internal linking. Your all internal linking will be right there if you remove the link whisper plugin.
Q2. How does link whisper work?
Link whisper is an AI based plugin which will scan your whole blog and suggest you automatically the best internal linking for your blog posts.
Q3. What is the price of Link Whisper Plugin?
Link whisper will cost you 77 dollars for 1 site. You can also select your plan according to your needs.
Q4. Is there any coupon code of Link Whisper?
the above link is the discounted link. Just click on that and you will get the 10$ coupon code from there.
Over To You
So, is Link Whisper worth your money?
The answer is " absolutely Yes".
This plugin makes my internal linking process so easy that I can do 10 to 15 internal linking in just a few clicks. Before this, it was a very time consuming process.
I think this plugin can add a lot of value on a big site, especially if you're outsourcing the content uploading or management for that site.
If you have lots of blog post published and want to save your time then you must try this plugin for sure.
As of right now, Link Whisper is the best internal link "automation" tool I'm aware of.
So, Grab it with discount asap before it ends. Do share this link whisper review article with others to add value in their blogging journey.
Your every share appreciate our efforts. 🙂 🙂