Google Adsense approval tricks, Is that what you are searching on google? Or looking for Adsense approval trick for blogger?
No Worries!
In this post, I will tell you the important tips for approving a Google AdSense account on your site.
First, let me share a proof that these tips are working:-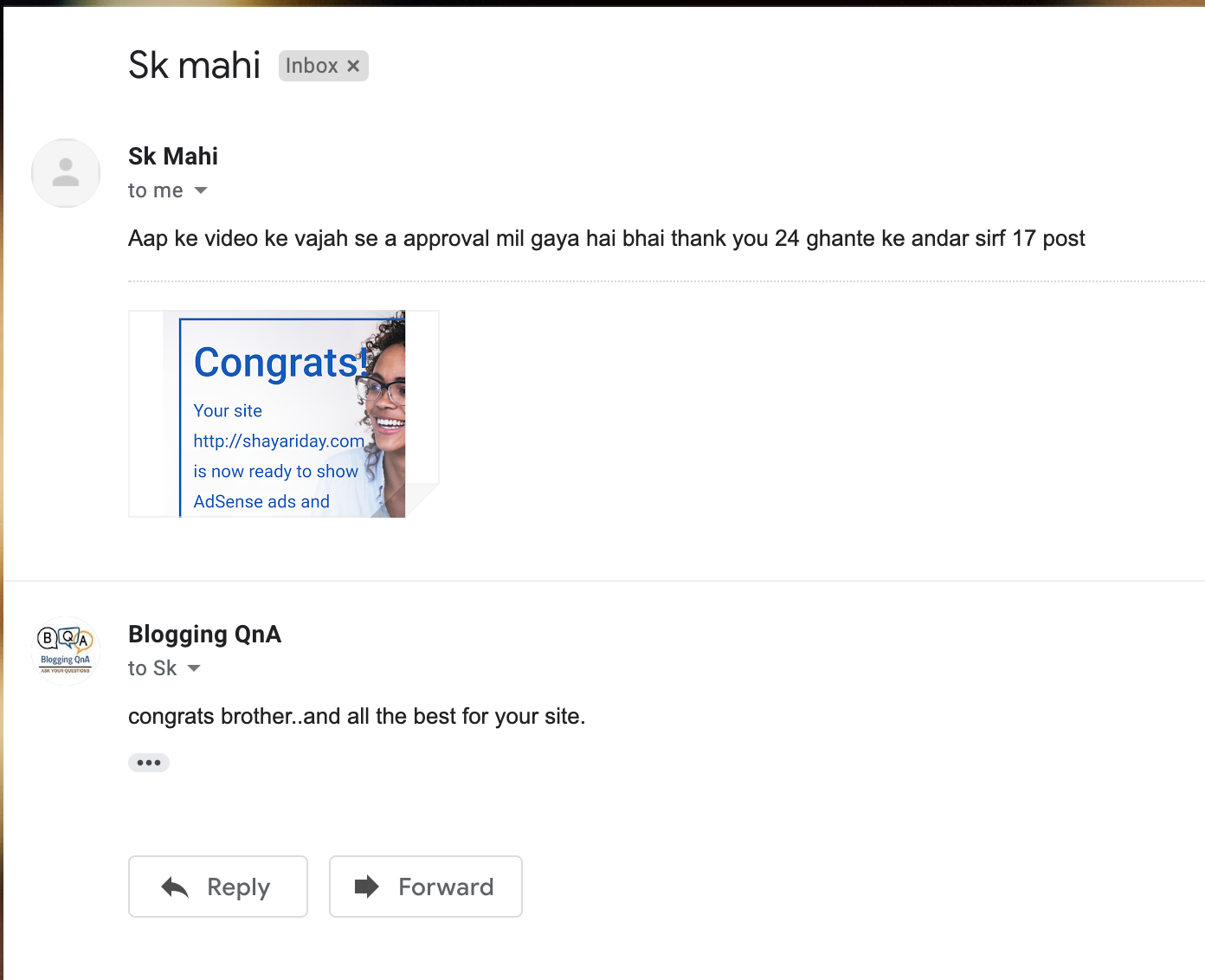 Now, let me tell you the tips that you must follow in order to get Adsense approval fast on your blog.
What is Google Adsense
Adsense is a CPC (Cost-per-click) and CPM (Cost-per-thousand-impressions) based advertising network. The new blogger has a dream of getting their Adsense account approved as soon as possible, but most of them face problems in getting AdSense approval.
Adsense is considered to be better than other advertiser programs because it pays the best of all.
Those who are not getting AdSense approval, they are not following certain rules.
After Knowing how to get fast approval from google Adsense, you will find AdSense approval very easy.
The first time when I applied for Adsense, even I had failed. After quite a while, I understood my mistake that I was doing.
Must Read: 11 Adsense Mistakes to Avoid To Make More Money with Adsense
If you don't want to repeat those mistakes then read this complete Adsense approval guide.
Google Adsense approval Tips For Fast Approval
Google Adsense account is not for everyone. If you have a blog or website, then you can apply for AdSense. If your blog has been prepared, follow the following tricks to get AdSense approval.
1. Write High-Quality Contents
Content is the King. Content means the article or post you are sharing with readers. So what is this high-quality content?
If your content is new, different from others, and has not been copied from anywhere, and completing the user search intent, then it is called quality content.
New bloggers think that they get AdSense approval by copying content or by translating. But Google is not so stupid.
Check out below video to know more about adsense approval on copy paste content.
Google checks every page that is indexed in google, so you can not easily fool it. If you believe that you will be able to get the Adsense account approved by copy, then forget to dream it.
Your every post should be at least 1000 words and 100% original too. This increases the chances of your approval by 90%. The more you describe in your article, the better it is for your blog.
2. Blog Domain Age
According to Google's guideline, some restrictions have been done by taking Adsense in some Asian countries. You can not apply for Adsense 6 months before. If you apply, there is a lot of chances to get your application canceled.
But that is not right you can get AdSense approval within 1 month if your follow all google Adsense policies.
But I found many bloggers got Google Adsense approval in just one month. Even I got approval in 1 month. But all the content in that blog was of high quality. If all your content is very good and brand new, then you can also do it.
But make sure don't just build your site in one day and then apply. Give some time to your site. After purchasing your domain name you need to build your website smoothly and continously.
It will give google instruction that you are very serious about your website and you are working seriously on it. It will increase your chances of google adsense fast approval.
for buying the top level domain name at cheap Price do check out namecheap offer.
Also, you can take help of this article in choosing the best domain name for your blog.
3. Sufficient Contents or Posts
This is the most asked question that I got regarding adsense approval.
How many blog posts we should publish in order to get fast approval on our blog. So, here is the complete answer to this specific query.
There is no such thing that your blog needs so much post, to apply for Adsense. But it is important to have enough posts on your blog.
If you write a post of 300 words, then it is good to write at least 40-50 posts on your blog or website, and if all your contents are 500-700 words, then you should write 20 posts. The more words you write, the more chances of approval are increased. So always focus on your content.
Pro Tip:- Post 20+ Post with 1000 to 1500 word counts each and apply for Adsense.
4. Do not write Illegal Content
If your blog or website is related to adult content, gambling, hacking, casino or drug abuse content, then forget about Adsense.
Google does not like all these content If your blog has some of these most related content, you can remove them and apply them. Otherwise, your account will be suspended from google.
You also need to read the policies of google Adsense about content so that you will not violate any policy. Below you can check the dedicated video on Adsense policies.
5. Do not insert copyright content
If you get a text, image, video or something like this from the Internet, you can not use it directly in your blog. Because it is not yours. If you give credit to them then this is a different matter.
what you can do is, read other blog posts to understand the concept and ideas and, then write that content in your own ways by adding more values to it.
By this, you will be able to create unique and quality content that is not violating any of the Adsense policies.
6. Other Ad Networks
There are lots of advertising networks like Adsense. If you are using their ads in your blog in advance, remove them before applying. It increases the chances of your approval. Adsense does not support some advertising networks, if you have one of them, your application may also be rejected.
Also Read:- Best Google Adsense Alternatives
7. User-Friendly Design
Your blog's design should be user-friendly. This means that it is necessary to be mobile-friendly and should have navigation along with it, through which any visitor can easily read your blog, and can easily navigate within your blog.
Do not put images widgets so much. This makes a difference in your design, along with the increase in the loading speed of your site.which is not right for you.
8. Enter all these pages
Enter About, Contact, Disclaimer, etc. pages in your blog. There are some such blogs that, despite all this, Adsense is approved, but it is a matter of luck.
If you add these pages to your blog then your chances will increase further. It has also been seen that Adsense approves some of the blogs for the reason that they contain all these pages. All these pages are needed for a blog. Which gives your visitors information about your blog or website.
check out below video if you are not able to create these pages for your website.
9. Language Support
It is not that you have created a blog of any language and Adsense will approve it. Adsense supports only a few languages and Hindi is one of them.
10. Do not insert more images
If you apply your blog to Adsense by filling in images, your application will be rejected.
Why?
Google can not read an image. Google can simply read the text. It is important to have as many texts as possible on your blog. If you are using the image then it is a good thing but do not forget to put ALT tag in all the images. The text you type in the ALT tag, Google knows how to read it, and it considers your image as text.
11. Don't Buy Visitors
Adsense likes real visitors come from search results, or come from social networking sites. You can also buy a visitor for your blog's traffic, but for that, you have to forget Adsense. Adsense does not like paid traffic If your account is approved then you will not have much time to lose it.
If there are 50 visitors on your blog every day, so this much is enough to apply Adsense. You do not have to worry about the visitor. Because Adsense sees the quality of your site.
12. Top Level Domain (TLD) & Email
Buy a top-level domain only. I have already told you how to search for the best domain name and the best domain name selection. If you are doing it with a free domain or sub-domain, then your Adsense will not be approved.
For Adsense, you can also apply with custom email, like [email protected], From this, Google considers you the owner of your blog or website and your chance of approval increases.
You can also watch below given video tutorial for Google Adsense approval.
Easy Adsense Account Approval Trick
Write a post on the new and latest topic for a new blog. 15-20 posts of 500 words are enough to apply Adsense.
Do not forget about, Contact, Disclaimer or Terms & Conditions page.
Do not worry about the visitor. In any number of visitors, you can apply, just the quality of your posts should be good.
After applying for Adsense, do not leave your blog like this. Keep posting something or every day, but do not copy it.
Make a mobile-friendly design only.
Do not forget to read Adsense Terms and Conditions once you apply.
Below you can check out a video tutorial about best adsense approval guide.
Final Words
These were all Google Adsense approval trick. With the help of all this, you can easily approve your Adsense account.
These are the tested and proven tips for fast Adsense approval. Make sure to follow these, and share it with others who are struggling with Adsense approval.