Once you have made your mind to make a website, the very first step is to get an excellent and relatable domain name. A domain must be relatable to your niche, and try to choose a name that is short in size.
Now from where can you get a domain name?
There are plenty of domain register sites available on the web. Some of the most popular names in the field of domain registration are Godaddy and Namecheap.
The major problem beginners face while launching their website is budget. They have a limited budget in which they cannot afford everything hosting, theme as well as domain.
So they need some cost-cutting ways by which they can get everything without increasing their budget. The best way to save your budget is by purchasing a hosting that provides a domain name for free of cost.
Now, if your budget is low and you are not able to afford a domain after buying hosting, then do not worry.
Nowadays, most web hosting offers a free domain for a period of 12 months.
How will you get the free domain?
Okay, so let me clear you one thing free domain name does not come absolutely free.
Most web hosting service sites offer this as a reward when you subscribe to their hosting service. In other words, you are purchasing a hosting package, and you find a free domain name with your hosting package.
Now you might think of this as a marketing strategy. But actually, it is a good deal for anyone who is ready to invest his/her time and energy to earn from the internet.
This is because you always need the best hosting service to host your website on the internet.
You can get a free domain name by purchasing web hosting, and you do not even have to pay for the domain name.
Don't you think it's a good offer? If your answer is yes, then let us learn how to get web hosting with a free domain.
Best Web Hosting With Free Domain Name And SSL
below are some powerful and popular hosting providers that will offer you a free top level domain with SSL certificate for free.
#1 Bluehost Hosting
Bluehost was founded by Matt Heaton and Danny Ashworth in 2003. Ever since it was founded, Bluehost has significantly improved your services over time and become one of the top hosting providers for WordPress.
BlueHost always ranks on top of the list when it comes to budget web hosting.
Currently, Bluehost is managed and run by Endurance International Group. One interesting fact about Bluehost WordPress hosting is that they have more than 2 million websites hosted on different servers.
Bluehost provides many features and has a lot of specifications which makes it easy for a newbie to start with. Along with it has also provided some advanced tools for pro users like developers tools, SSH Access, and FTP.
A newbie will not have that much budget to go for everything; if they go for hosting, they are the compromise with the domain or theme.
But if you go for Bluehost hosting, you don't have to face such problems because they provide domain names for free of cost with the hosting. So if you purchase the hosting, you don't have to spend a single penny in purchasing a domain name.
It always gives you the flexibility to choose the requirements as per your budget; Shared hosting is great for beginners to start with, and you can install WordPress with just a single click.
As your blog grows and the traffic comes in, you can switch to different packages as per your needs.
The shared hosting is extremely affordable and costs $2.95 a month. However, dedicated hosting charges $7.99 per month.
They provide a lot of hosting packages, and for your convenience, we have listed out all the packages they provide. If you are a beginner, you can surely go with the shared hosting plan, and if you are in the intermediate level, u can choose as per your needs.
Hosting Packages Provided By Bluehost
As the major audience will look for shared hosting as it is the most popular hosting of Bluehost they have provided 4 plans in shared hosting. These plans are:
You will get the maximum benefits if you go for long term plans so it is always recommended to go with the plan of 36 months.
Super Affordable
Regular backups
SSL certificate is provided free of cost
Exceptional Customer Support
Free Website Builder
Money back Guarantee
Free Domain
Free Website Migration
More BlueHost Resources For You
#2 Hostinger Web Hosting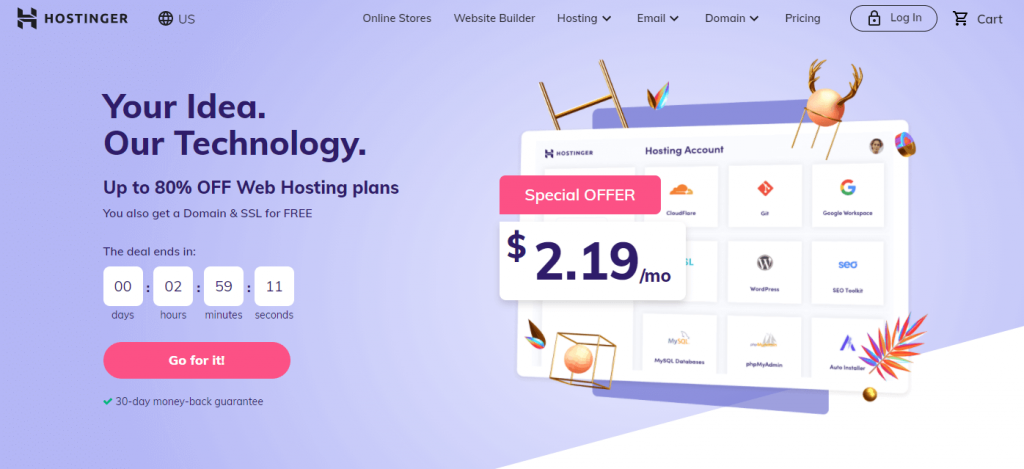 Hostinger web hosting is another great web hosting that is known for its affordability and services. They provide Top-Notch services at a significantly lower price.
If you are just starting out in this blogging field and you have a tight pocket, you can rely on hostinger web hosting; they will not disappoint you.
They have high-speed service distributed in different regions, so you can host your website in different places without compromising the speed.
A question might pop into your mind that they are providing hosting at a very affordable price, then they must be compromising with the features, right?
But let me tell you that they provide all the top-notch features that any other hosting has.
Hostinger provides a fast loading time for your blog, which enhances the ranking and growth of your blog. On average, the hostinger has delivered an average loading time of 356 ms from the past 12 months.
Another most important feature that hosting provides is 30 days money-back guarantee. In case you purchase the hosting and think that this hosting is not worth it, you can always take your money back within 30 days.
Hostinger provides 24 into seven customer support in case you face any problem. I personally have many websites hosted on hostinger, and till now, I haven't faced any single issue from their side.
Another most important problem that newbies face is with the C panel. They find it difficult and complex to use. Hostinger has effectively solved this problem by introducing h-panel in their hosting instead of C-panel. H- panel is very simple and easy to use, which is perfect for beginners.
Overall, hostinger is great hosting if you are a beginner; their hosting is super affordable and up to the mark. We have mentioned all the packages and their pricing below to give you quick insights into their plans.
Hosting Packages Provided By Hostinger
● Single shared Hosting
● Business shared hosting
● Premium shared hosting
● Cloud Hosting
As a beginner, most people opt for a shared single hosting plan. Single shared hosting cost $0.99 per month. We are giving the list of prices allotted for hosting packages in Hostinger.
Single Shared Hosting- $0.99
Business Shared Hosting-$2.99
Premium Shared Hosting- $3.99
With each plan, you get a domain name with SSL certificate for free of cost for a period of 12 months.
The cloud hosting has 3 different plans. Cloud hosting is mainly for large scale projects and that's why beginners and small website owners do not need it.
Pros
Much affordable than other web hosting services
Free domain name for 1 year
Load time is very fast
Money-back guarantee
Cons
No SSL Certificate
Uptime is not up to the mark
#3 GreenGeeks Web Hosting
After Bluehost and Hostinger, nowadays Greengeeks is also very popular in the market. Within the last 13 years, Greengeeks has become extremely popular. The Greengeeks website has hosted close to 6 lakhs of websites over the past decade.
Greengeeks is an award-winning web hosting service provider. From quality and uptime to a user-friendly environment, it has everything. Its 24×7 customer service makes it more reliable and client-friendly. It also provides a secure and reliable service for its customers.
The main motto of GreenGeeks Web hosting is to reduce carbon footprint. Since 2009, they have been an Environmental Protection Agency Green Power Partner of the United States.
Now, if you think about whether they will provide you with a free domain or not, then don't worry. With free domain, they are also providing a range of excellent features.
From unlimited SSD, unmetered data transfer, they also provide nightly backup, SSL certificate, and many more.
Each account is also equipped with a lot of developer tools. GreenGeeks is making developers' lives easier by including Phpmyadmin, SSH access, Drush, Git, SFTP, etc.
Hosting Plans By GreenGeeks
Basically GreenGeeks deals with 3 types of Web Hosting plans.
Beside Web hosting it also provides WordPress hosting, VPS hosting and Reseller hosting plans.
Now if you buy the Lite plan you will get only one free domain with it. But if you are planning to buy the Pro or Premium plan then let me clear to you that it gives an unlimited number of domains free of cost.
Pros
Fast loading time
Free domain
Free website migration
Eco-friendly hosting
Money-back guarantee
#4 Hostarmada Web Hosting
Hostarmada's 99.9% uptime and super-fast loading time are stealing the show from the competition. Hostarmada is a new web hosting service launched in 2019.
The company has since begun to grow quickly and has also amassed a good customer base. Its high-quality service, along with some add-ons, has made it popular among customers.
This list of features makes it popular and reliable. Free SSL, unmetered bandwidth, daily backups, free private DNS, cloud SSD storage, and the list goes on.
For a newbie, it is absolutely budget-free and also offers a free domain. You are getting a one-time free website migration facility. It does not charge any extra fees if you unsubscribe from their plan during the
trial period.
Hostarmada is constantly trying to improve its services along with innovating something new. For fast connection and achieving a good website experience, Hostarmada has set up 9 data centers all over the world. Among them, 3 data centers are present in the USA., and others are present in Germany, UK, India, Singapore, and CA.
Hosting Packages By Hostarmada Hosting
Hostarmada has come up with 3 types of hosting services. Under Shared and dedicated server hosting only 3 types of plans are available. But under VPS hosting 4 plans are present there.
Hostarmada mainly provides 3 types of shared hosting plans. Each of them have different specifications and pricing.
Start Dock- $3.99/month
Web Warp- $4.69/month
Speed Reaper- $5.66/month
If you are not having enough budget but are planning to host only one site then do not wait much and opt for the Start Dock plan. Start Dock plan consists of each and every feature a beginner wants. Along with that Hostarmada provides excellent customer support 24×7.
Pros
Faster website loading
Low number of users per server
Security
Provides many free items
Free Domain Name
Free Website Migration
Free SSL Certificate
Cons
The discount offer is valid only for the first-time subscription hence renewal becomes costly.
#5 HostGator Web Hosting
Hostgator came into existence in 2002 in Florida by holding the hands of Brent Oxley. Since it has not looked backward and almost hosted 2 million websites. People in the field of web hosting do not look for an intro of Hostgator.
There is no doubt, Hostgator Web Hosting has established itself as a respected force in the hosting industry. Just like some other web hosting services, Hostgator is also run by EIG( Endurance International Group).
From small business owners to large project groups, everyone can get their desired hosting packages along with specifications. Hostgator web hosting has such a clean user interface anyone can easily use it without prior knowledge and understanding.
The sitelock feature absolutely removes the malware present in your site by scanning it. It also provides good security against malicious attacks. Hostgator web hosting plans also come with free advertising credits.
Don't worry if you don't know anything about website building. The website builder feature will help you out of this problem. It provides a number of browser-friendly themes, which are also cool and attractive.
Hostgator package includes weekly backups, website migration facility, SSL certificate, very good customer support, and many more.
It mainly offers various types of hosting packages. Prices are also budget-friendly. Following are the short descriptions of some of those.
Hosting Packages By HostGator Hosting
Shared hosting along with other hosting are further divided into three categories.
Hatching Plan – $2.75/month
Baby Plan- $3.50/month
Business Plan- $5.25/month
A shared hosting plan also comes with a free domain. So go through all these plans in detail and then subscribe to the web hosting package according to your needs. On the first time subscription only you will get the hatching plan at $2.75/month.
Note: HostGator also offer a 45-day refund guarantee. Consider it as a suitable replacement for HostGator free trial offer which no longer exists.
After that, it will take the regular price. So try to subscribe to the 36 monthly plan. Otherwise, you have to pay more for the same time period.
Pros
Uptime is 99.8%
Loading is speed is very fast
Unlimited email accounts
Unmetered bandwidth
Unlimited storage
Free Domain Name
Free Site Migration
Cons
Backups are not done on daily basis
Renewal is also very high
#6 InMotion Hosting
If you are still not sure about the hosting mentioned above, then you can choose this hosting. Inmotion web hosting is another great web hosting for beginners. Inmotion web hosting is an old web hosting an established player in the game; you can easily rely on them. They provide domain names for free with all their plans.
Inmotion hosting was founded in 2001. Currently, 200 employees are connected with inmotion hosting in their Virginia and Los Angeles branch.
The performance of this hosting is super with their technical support 24×7. If you plan to launch your website in WordPress, then there can be no better choice than inmotion hosting; they are award-winning WordPress hosting providers. Inmotion web hosting providers 99.9% uptime with 50 GB SSD storage.
Moreover, they provide 90 days money-back guarantee in case you think this web hosting will not fulfill your needs.
We have listed out some of the well-known features that inmotion hosting provides with their packages.
SSD storage of 50GB
20,000 monthly visitors
WordPress optimization
Domain Name and SSL for free
Web Application Firewalls
Unmetered Bandwidth
This generally offers four types of web hosting
Pros
Great uptime
90 days money back guarantee
Free SSL and domain
Fast and SSD storage
Unbeatable customer support
Free website migration
Free Domain Name
Cons
Not that much cheap
Verification gets delayed sometime
No monthly plans are available
FAQs For Web Hosting With Free Domain
Q1. What exactly do I need to do to get the domain name for free?
All the above-mentioned hosting provides a free domain if you go for an annual plan with any hosting package. To get the free domain name you need to sign up and purchase the annual plan.
Q2. How much does a domain name cost?
Domain names are not that much costly. The cost of a domain name depends from registrar to registrar. The domain names also depend on the extension that you choose .com domain names are more costly than .in Domain names.
Q3. What other things do I require other than a domain name to launch my website?
To launch a website successfully you need mainly three things: the domain name, hosting, and the theme. In case you purchase any hosting you get the domain name for free of cost show additionally you need to purchase the theme in order to launch your website.
Q4. What are the different domain name extensions that I can choose in the free domain?
Domain name extensions vary from registrars to registrars. however, all the general extensions like .com .in .net .co are supported by most of the hosting providers.
Q5. Which web hosting do you prefer to go with from the above-mentioned lists?
All the above-mentioned web hosting providers are genuine and the best providers available in the market. You can choose any hosting that meets your requirements. However, if you are starting out your blog, shared hosting is more than enough for you.
Over To You
With this knowledge, you can easily get a free domain for one year. It's simple yet easy to do.
We have mentioned the best web hostings along with a lot of free features they offer. Every hosting has its own pros and cons. Some of them offer regular backups and SSL, whereas some of them do not offer it.
Some of the hostings have high renewal costs. We have mentioned all these steps by step so that you can read them easily and decide which one you want to purchase.
Every web hosting has its own plans and prices. We have listed them out for your ease. Our main motto in writing this article was to make you aware of web hosting, which offers free domain on purchasing any of their plans.
I am sure we have positively informed you about that.
Now choose a web hosting that best suits your needs. After that, check whether it gives a free domain or not. After doing all this research, purchase the hosting.
After reading this long article, you might have a lot of queries that need to be answered to get a clear understanding of the web hostings with a free domain.